"The Giant Slayer" Estevan Martinez Looks to Conquer in Abu Dhabi
At last! After a long and hard year of going through a jiu-jitsu drought with the most unfortunate delay of events due to the worldwide pandemic, we have finally weathered the storm, and thanks to Abu Dhabi the front runner in combat sports by bringing us this incredible stage of the world's toughest and most dedicated grapplers like North Carolina's. Martinez brings energy and excitement in every match. We had a chance to speak with him about his participation in such a huge platform. From watching ADWPJJC events when he started Brazilian jiu-jitsu, to now being on the stage to be watched, he has always admired all of the athletes and fighters that stepped up to compete, and he couldn't be happier being able to test his skill set and be among them. 
Following is our quick chat with "The Giant Slayer", Estevan Martinez…
JJM: Is it your first time participating at Abu Dhabi World Professional Jiu-Jitsu Championship?   
EM:  I did the trials two years ago in California and I lost in the third round.  
JJM:  What was your most memorable experience from your participation? 
EM: I would say the most memorable moment was winning my first match. Was happy I was there and that I could get a win. This time I want to win the whole thing.  
JJM: The ADWPJJC is an ideal platform for athletes to test their skills on the mat. What do you say are your strengths that will allow you to compete against the best athletes in the world?  
EM: I say my strengths are many. I'm well rounded wherever the match goes. I'm fast and hard to hold in nogi. Also, I believe I'm a technical and strategic competitor, willing to take risks and take advantage of any mistakes.  
JJM: How is your training going leading up to the ADWPJJC? 
EM: Training has been great in North Carolina with my teammates Diego Ramalho and Gabriel Sousa. I've been competing a lot of nogi lately so everything all year has been done in preparation for this tournament.
JJM: How did the sport of jiu-jitsu impact you on a personal level?
EM: I think sport jiu-jitsu has impacted my abilities a lot. I always looked at tournaments as a tool for fast progress. I feel if I did not have the competition to prepare for I would not take my training as serious. 
JJM: Where would you like to go with jiu-jitsu, what's the future hold?  
EM: I would like to travel the world and teach jiu-jitsu. I want to compete in the biggest and hardest tournaments and make my name big in jiu-jitsu history.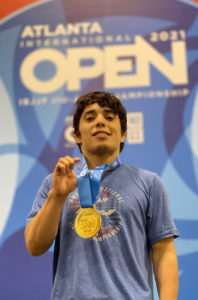 JJM: What's your best jiu-jitsu tip?
EM: No matter what, just stick with it. The harder you work the more the results will come.
JJM: How do you see Abu Dhabi hosting global jiu-jitsu championships and giving the chance for athletes to compete against the best in the world? 
EM: Since I started jiu-jitsu I've watched the ADCC highlight videos and would greatly admire all the fighters.  I think it's great for sport jiu-jitsu to have such a competition. It's now being live streamed where people at home can watch the best athletes of our sport fight. It's great for the athletes also. We get to test our hard work and skill against some of the best
JJM : Is there anything else you'd like to share with our readers? 
EM: The mind is stronger than any muscle.  You can do anything you imagine no matter what anyone tells you. 
Even though we're heading into a winter season, things seem to be warming up in Abu Dhabi. Click here for more info and to register now.