PFL 3 Virtual Media Scrum Highlights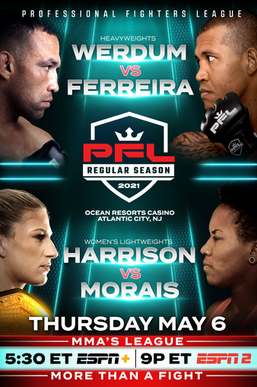 The PFL kicks off its brackets in this season's Heavyweight and Women's Lightweight tournaments this Thursday, May 6th at the Ocean Casino Resort in Atlantic City, New Jersey. The pre-fight media scrum was highlighted by competitors Cindy Dandois, Renan Ferreira, Mariana Morais, Mohammed Usman, reining PFL Women's Lightweight Champion, and two-time Olympic Judo Gold medalist Kayla Harrison, as well as ex UFC Heavyweight Champion Fabricio Werdum.
Cindy Dandois
First up on the panel for PFL 3 was Cindy Dandois. Cindy at 36 years old is coming off a one-year layoff after a very busy 2019 amassing 5 fights in the 12-month span. The veteran was in good spirits and motivated for her upcoming matchup against Kaitlin Young and when asked about her keys to victory she highlighted her superior grappling will be the outlying factor. Due to the pandemic and Cindy training overseas in Belgium where restrictions are not so favorable for athletes being able to train none the less prepare for a full training camp, Jiu-Jitsu Magazine had the opportunity to ask Cindy at PFL's Monday virtual media scrum whether or not these regulations had significantly affected her training camp.
"It's been really hard. My gym also was closed. I've been training Sneakily. Normally in a fight camp, I have to make 145 or 135 pounds so what I do is I train and I eat sneakily. I eat sneakily ice cream, I eat sneakily chocolate, as well as cheeseburgers. And now fighting at 155 pounds I eat whatever I want and train sneakily. I train twice a day and sneakily behind closed doors."
Renan Ferreira
Next up in the fighter scrum was Team Nogueira product, Renan Ferreira. Standing at 6 foot 8 and weighing in at 260 pounds Renan's physical presence is undoubted but he has drawn no small feat in having to face ex UFC heavyweight champion Fabricio Werdum in his first outing to the big stage. Fabricio holds a victory over Renan's mentor Antonio "Minotauro" Nogueira. Renan was asked by Jiu-Jitsu magazine whether he was given inside pointers from Minotauro and his team.
"I worked hard towards all of Werdum's strengths for this fight camp and I'm ready for where ever this fight goes. We did talk a lot about Nogueira's and the team's experience with fighting against Werdum and we worked really hard on all of the pointers and advice that was given from my coaches and team."
Mariana Morais
Mariana showed an eerie calmness at the PFL 3 media scrum. Mariana at 26 years old has amassed 26 fights over the span of her 9-year career having shared the ring with the UFC title challengers Jennifer Maia and Roxanne Modafferi. Despite her birthday being on the day of the media scrum Mariana meant business and assured to everyone she was no light task. Her opponent and reigning PFL Women's Lightweight Champion Kayla Harrison had stated earlier in the week that her biggest challenge in the tournament will be Larissa Pacheco. When asked by Jiu-Jitsu Magazine whether or not Kayla might be overlooking Mariana, the Brazilian simply replied to Kayla and the critics
" I do think that she is overlooking me but I think she will be surprised. But I have to agree with Kayla that Larissa is a good competitor and will also be a tough challenge ahead."
Justin Willis
Justin Willis was one of the big names acquired by the PFL for this Heavyweight Season. The five-fight UFC veteran who holds a notable win over Mark Hunt was all smiles and was beaming confidence at the media scrum. After being released by the UFC in May of 2019 it has been a long two year lay off for "Big Pretty" but he assured everyone he had spent the time sharpening his toolbox in South Florida at Hardknocks 365 with ex UFC Light Heavyweight Champion and UFC Hall of Famer Rashad Evans. Willis is not a stranger to the PFL having fought in the WSOF in 2016 before the PFL's acquiring of the organization in 2017. When asked by Jiu-Jitsu Magazine whether or not this was a sort of "homecoming" Willis replied
"I've fought in Japan in the brightest lights and I've fought in the UFC in the brightest lights and you know these are bright lights. It is what it is, another day in the office for me to go in there with my hard hat, punch in the clock, and go back to my family."
Mohammed Usman
Mohammed was riding high off the recent success of his big brother and UFC Welterweight Champion Kamaru Usman. Mohammed stated that the success has motivated him to new heights and was digesting all of the new information provided by Trevor Whitman and company at Elevation Fight Team. The addition of Francis Ngannou to the Usman circle of trust was also highlighted as a large benefit for Mohammeds progress and when asked "The Motor" did not rule out a future fight against Francis should the time come. Usman was confident on the podium that he would deliver a good performance against his opponent Brandon Sayles and when asked who would win in a fight between him and his big brother Kamaru, there was no hesitation that Mohammed would get his hand raised.
Kayla Harrison
The two-time PFL Women's Lightweight champion says for us to expect dominance in her upcoming matchup with Mariana Morais. The champion highlighted how grateful she was to be able to get a fight at featherweight in her most recent TKO victory at Invicta FC 43 in November 2020. The two-time Judo Olympic Gold Medalist expressed her excitement for the up-and-coming Olympic Games and teased us with the potential of her commentating the Olympics for NBC. When asked who was the greatest combat sports athlete of all time Kayla Harrison or Henry Cejudo, Kayla didn't skip a beat highlighting her accomplishments far out-weigh Cejudo's and that its time for "Triple C" to bend the knee.
Fabricio Werdum
Likely the biggest signing for the PFL in this season's Heavyweight tournament was the first man to defeat Heavyweight legend Fedor Emelianenko and ex UFC Heavyweight champion Fabricio Werdum. The Pride, Strikeforce and UFC veteran stated at 43 years old his career is far from over and he sees himself adding 1 million dollars to his bank account as well as another piece of hardware to his trophy case. Fabricio's career is rooted in Brazilian Jiu-Jitsu and the future hall-of-famer was not shy to boast his ADCC and IBJJF World Championship accomplishments to the media. When asked by whether or not he foresees a return to BJJ competition or competing in Super Fights once his MMA career is settled, Fabricio did not rule out any possibilities stating
"I like the idea of the super fights but like I said before I am focused on May 6th. This is important because my focus is on Thursday's fight. Later let's see but I also don't believe in competing in the gi. Maybe some grappling or some boxing. I'm 43 years old, maybe I have two more years, my mind is ok my mind is very young, my body is like I'm 31 and my mind is like I'm 18."
Fabricio also concluded with a comment for his fans in Brazil saying
"I just want to thank all my fans and to thank Brazilian TV Channel COMBATE that influenced my presence in Brazil for this fight and I was really happy to see them give me their support. Whatever I can do to bring the PFL to Brazil and make it successful I will do it because the treatment the PFL gives is different for sure. I also wanted to show appreciation for all the messages I got from my fans from Brazil calling me the best of all time and showing their support and motivating me. Thank you"
Tune in on May 6th for PFL 3.