Submission Underground 16 – Betting Analysis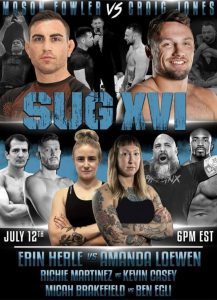 Format for all Matches 
5-minute match

NOGI submission only 

EBI overtime if no winner is determined in regulation.
MAIN EVENT:
Craig Jones (-455) vs. Mason Fowler (+350)
The main event of the SUG16 features "SUG 10k tournament winner "and ADCC veteran Mason Fowler taking on the ADCC silver medalist and the current SUG final boss Craig Jones.  Mason is a brown belt who currently trains with Caio Terra and Craig trains with the Danaher Death Squad.
There is no surprise that the opening odds on Craig Jones almost 5-1. Craig opened at -455 which is an implied probability of 82% to win, while Mason opened at +350, implied probability of 22% to win. Excluding Gordon Ryan (his teammate), Craig Jones is probably the most well known NOGI grappler in the world and is undefeated in SUG events. He has been training under John Danaher and has recently added new tricks to his dangerous leg lock game. Mason is the ADCC trials winner and comes into this match as a large underdog. Mason is known for his wrestling and is also an MMA fighter. Although Craig is taller, I don't expect anyone to have a significant size or strength advantage,
These 2 faced each other at ADCC where Craig looked dominant. It was a close match up until the very end when Craig caught Mason in a guillotine choke. That match however was under a different ruleset and as always with the EBI rules, there are different ways to win. I think Mason has a path to victory here if he can beat Craig in overtime. During regulation, Mason will need to actively avoid Craig's leg locks and avoid the low posture he used in their previous match which got him into trouble.
I expect Craig to get the submission win in overtime.
Craig Jones (-455) / 82% implied probability to win
Mason Fowler (+350) / 22% implied probability to win
Prediction: Craig Jones by submission in OT
---
Amanda Loewen (no odds yet) vs. Erin Herle (no odds yet)
Due to Gillian Robertson testing postive for Covid-19, Erin Herle has stepped in as a late replacement for this match. I expect the odds to be a little tighter on this one since Erin Herle is a pure grappler and also a black belt who has competed at the highest levels. I expect Amanda to win here by submission either in regulation or in OT. Erin, unlike Amanda's original opponent Gillian Robertson or her previous opponent Jessica Eye is a technical fighter who does not rely on overpowering her opponents. This should favor Amanda who in the past has been susceptible to being overpowered by her opponents.
There are currently no odds out for this match but I believe Amanda is a good bet here if her odds stay above -150. Her experience as a SUG Veteran and the fact that Erin is coming in on short notice should benefit her.
Prediction: Amanda Loewen by submission in regulation or OT
---
Richie Martinez (-125) vs. Kevin Casey (+105)
It seems like SUG likes to put Richie Martinez up against top dominant and physical MMA fighters. First Jake Shields, then Austin Vanderford, and now Kevin Casey. Richie is a 10th planet black belt under Eddie Bravo and Kevin Casey is a black belt under the legend, Rickson Gracie. It makes sense that Richie is a slight favorite here since Richie is a pure grappler who has retired from MMA and has the experience advantage. Kevin Casey is still an active MMA fighter who has shown vulnerability to leg locks and modern jiu-jitsu. Kevin will have a tremendous size and strength advantage in this match however and Richie has had problems in the past dealing with physical opponents.
Kevin Casey is the type of guy who could give Richie problems due to his physicality but I lean Ritchie here and think he will get the win by escape time in OT 
Richie Martinez (-125) / 56% implied probability to win
Kevin Casey (+105) / 49% implied probability to win
Prediction: Richie Martinez by escape time in OT
---
Ben Egli (no odds yet) vs. Micah Brakefield (no odds yet)
Jake Ellenberger was also forced off of the card due a positive Covid-19 test result. As a result, MMA Fighter and Pedro Sauer black belt Ben Egil has stepped in to face Micah Brakefield.
Both are very aggressive with submissions but I believe Ben Egli will have a slight advantage here and get the victory. He has the better submission defense between the two and as long as he can avoid Micah's tricky bottom submissions he should be able to get the victory.
Prediction: Ben Egli by submission in regulation or OT.
---
Hunter Colvin (-185) vs. Andy Varela (+145)
Both Hunter and Andy were on the previous SUG card and had impressive performances in the 10k tournament. Andy gave Kody Steele all he could handle before losing in OT and Hunter won 2 matches before losing to eventual runner-up and phenom Roberto Jimenez. 
Hunter is the more experienced and accomplished grappler between the two. Andy is very talented and an aggressive fighter but Hunter has shown his finishing abilities in the past against high-level opponents. I expect Hunter to get the finish in overtime. 
Hunter Colvin (-185) / 65% implied probability to win
Andy Varela (+145) / 41% implied probability to win
Prediction: Hunter Colvin by submission in OT.