Andressa Cintra Continues Her Practice Despite The Coronavirus
Despite setbacks due to the coronavirus, the four-time world champion, Andressa Cintra, continues to train at home in Houston, Texas.
"The pandemic came out of nowhere and stopped all of us," said Cintra. "As time went by, I started to be more careful about not getting the virus and began doing things such as avoiding crowds, washing my hands, and using alcohol between classes. When everything closed down, I started training at home, doing physical preparation, studying some positions, and also started to attend online yoga classes to improve flexibility. Meditation also has helped me a lot to stay sane." 
Cintra has lived in Houston since 2018 with her husband, Lucas Valente, and their two dogs. Because the United States is in quarantine, her coach and husband's uncle, Vinicius Draculino, has followed her via video calls. Usually, Draculino supervises her practices and competitions.
"Draculino and my husband push my jiu-jitsu training," said Cintra. "My husband's other uncle, Daniel Valente, works on my strength and conditioning training. They make sure that I don't spend too much time in front of the television and that I follow the new routine that we have created for this pandemic. Of course, we also have time to relax."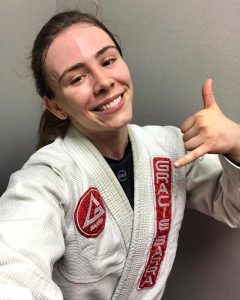 Cintra had several competitions on her calendar, but due to the pandemic, everything has been suspended. She is still improving her jiu-jitsu and self-growth. 
"I am very sad that the Pan-American and World Championships were canceled, but I have already accepted that and changed my goals during this quarantine," said Cintra. "I have had to evolve my jiu-jitsu skills by watching online techniques and training with my husband or a dummy that I made with old towels. I also think this is a great time to improve in other areas that we usually don't make time for, such as reading, spending more quality time with our dogs and loved ones, meditating, and even cooking."