Athlete Gustavo Batista Adapts His Training During Coronavirus Outbreak
At the beginning of the quarantine, professional athlete Gustavo Batista passed the days of confinement deprived of his usual jiu-jitsu training. The black belt fighter found it impossible to do the workouts he used to daily but decided to set new short-term goals to align with his long-term ones. He began to train from home to find relief from the current situation and proved he is as tough in the sport as he is on himself.
"I have stayed active by doing some strength and conditioning exercises at home, using my body weight," said Batista. "I have also been sharing those exercises on my social media. People can use them as ideas to stay active in their homes." 
Before cancellations due to the coronavirus began, the European Open Class and Pan American Champion had a super-fight scheduled for April 25 in Sao Paulo, Brazil at the BJJ Starts event. He was also planning on competing at the IBJJF Brazilian National as well as the IBJJF World Championship, which he says was the most important to him. 
As the coronavirus continued to spread, his academy, Atos Jiu-Jitsu HQ, shut down. Without access to a training facility and a blank roster of upcoming tournaments, the black belt was forced to change his plans.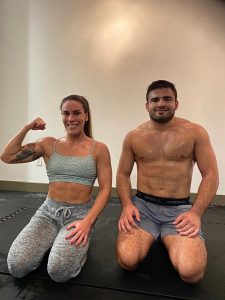 "I believe that what is going on is something very serious and that we should all be very cautious to not be contaminated by Coronavirus and end up spreading the virus to the elderly and others from high-risk groups," said Batista. "At this moment, we must care about our family and the family of those around us. I admit that in the beginning, I didn't believe that things could go this far. I thought the situation would be controlled faster, and I'm pretty sure that I was not the only one to think that way. We didn't have any knowledge about it, but now, we do. So, we have to respect the local restrictions, so it will reach the least amount of people and it can end as soon as possible."
To get through the coronavirus, Batista remains very positive and believes that this will pass if everyone does their part to act quickly.
"This is a very tough moment for all of us jiu-jitsu lovers," said Batista. "But it's a bigger matter. It's about everyone's wellbeing. I have used this moment to value the little things that most of us don't in the day to day rush. In the end, we should all take a big lesson from this."