Kenny "Ken Flo" Florian His Own Brand of Flow
Meraki [may-rah-kee] (adjective) – This is a word that modern Greeks often use to describe doing something with soul, creativity, or love — when you put "something of yourself" into what you're doing, whatever it may be.
Insert Kenny Florian and his business partner Jason Hunt. Together they opened up their academy in the West Los Angeles/Brentwood area. A beautifully simple facility that is an obvious labor of love and expression of the Gentle Art. Although the logical move would be to slap Kenny Florian's name on the academy, considering his high profile from his UFC achievements and as the current host of UFC Tonight and commentator/fight analyst/podcast host, but rather than doing that, both Jason and Kenny wanted the academy to represent something even bigger than themselves. We were able to spend a couple of afternoons talking to Kenny about his journey and how jiu-jitsu has led him to where he is today.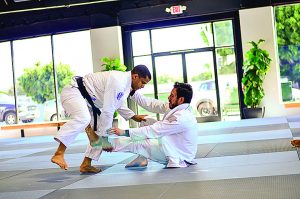 Whenever there's a household anywhere near Boston that boasts the presence of six siblings, there is bound to be competitiveness within the household. Imagine the battles that may have ensued with that final piece of pizza or who took whose favorite something. It would seem that it could get downright brutal. Father Florian seemed to have the insight to know just what to do- have the kids direct their energy into sports and the martial arts. Having been involved in judo all through his medical school experience, Kenny's father saw the overall value in the ability to take care of oneself and knew that the martial arts were a fine backdrop to teach that very lesson.
Kenny's brothers and sister were typical energetic kids. Kenny was involved in many sports at a very young age and found an affection towards soccer (which he would go on to play on a collegiate level) and tennis. Two sports that, when he reflects on it, make him laugh at the contrast between his UFC career and what people may consider "not so manly" of sports.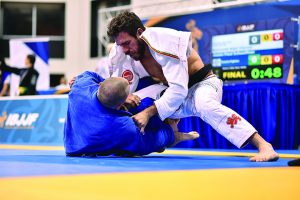 Kenny was also a martial arts fan at an early age: Bruce Lee movies, kung fu theater, you name it. So it doesn't seem too odd to note that his first involvement in martial arts was actually at a karate/kung fu academy, and that's all it took for Kenny to realize that there was something special about learning a martial art. He likens the realization as something of a "religious experience". That experience stayed with him and his path within the arts had begun.  It was though the martial arts that he truly felt that he was able to learn about his body, its movements, and how to be relatively athletic and apply it to his jiu-jitsu career.
It was around his early teen years that Kenny took a long break from the martial arts to focus on soccer. He was traveling nationally and internationally to play, and his mother just didn't have the time to shuttle young Kenny back and forth to martial art classes and competitions (did we mention that there were six Florian kids in that household?). Fast forward to some skinny Brazilian guy on TV in a kimono competing in this new event called "The UFC", and like so many of us, Kenny discovered jiu-jitsu. Kenny recalls seeing Royce Gracie apply all of these techniques that he'd never seen before, which inspired him to believe that "Hmmm… Maybe I could do what he could do". From that moment on, consider him back on the wagon.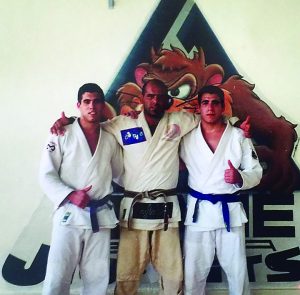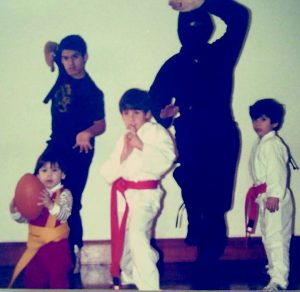 Although Kenny's drive to compete is what eventually drove him to try out for the legendary first season of "The Ultimate Fighter", he was still unsure if he actually even wanted to be a fighter at that point. He always felt that one day that he may realize a dream of putting on a gi everyday and instruct. His original intent for trying out for the show was to do it for the experience and learn as much as he could so that maybe one day he would be able to teach the things that he had learned. It wasn't until making it to the finale and losing his fight against Diego Sanchez that he felt that he belonged in that sport and that he could hang with the best of them. It was that said competitive drive that kept him coming back for more and eventually led him becoming one of the top fighters in the UFC. Looking back on his career, he feels that everything that he accomplished has, in essence, made him a better instructor. Martial arts changed his life, more specifically, Brazilian Jiu-Jitsu.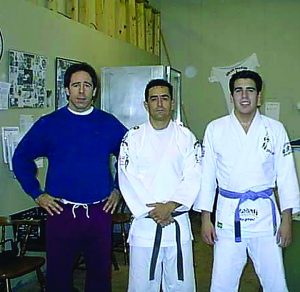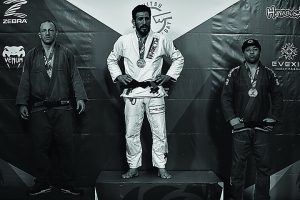 What really drew Kenny to Brazilian Jiu-Jitsu (now a third-degree black belt under Prof. Roberto Maia) was what he refers to as "the trickery". He loved the idea that you can make an opponent think one way, while steady positioning and taking them (or their neck or limbs) another way. One of his major beliefs about jiu-jitsu is a realization of a step-by-step process to success. Through hard work and repetition, he feels jiu-jitsu lays out that roadmap to success in which he applies daily in all aspects of his life. As a UFC analyst, husband, and soon to be father, he explains how it is a crucial attribute to possess. With that, Kenny still feels like he's continually learning: from his own experiences, as he teaches, and even from his students. To sum it all up, he feels that he learns how to learn from jiu-jitsu, and that is what he would like to pass on, and if he could make you a better person from that process, that excites him. However, his ultimate goal is that he would like to teach his students and would like his students to pass on to others the ability to "learn how to learn".
When it comes to learning, no one can deny the influence of technology and the role that it plays in the learning process. Kenny explains that when he was coming up, that knowledge wasn't as readily accessible as it is these days. He laughs at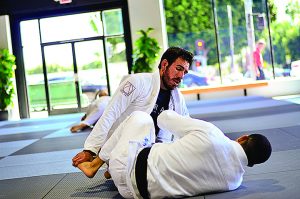 the idea that he used to have to use "The Yellow Pages", a critical business listing and contact tool from the past that surely gets lost on the current younger generation. The idea that you're only a Google search away from acquiring thousands of videos of passing, submissions, counters or any other position is absolutely mind-boggling. He expresses how that's a good thing but can also be a bad thing. The fact that we do have access to all this information forces us to be a bit more vigilant and conscious of the information that we're receiving. He believes that the overwhelming amount of information available to us from true information to counter information to outright false information, is a potentially good thing, but it also showcases the division in philosophies in the same historical manner as religion and politics. But of the utmost importance is the relations that you maintain and the beliefs that you have in yourself, the main benefit of having his own academy. His academy, he feels, gives him the opportunity to create relations and connect either one on one, or one on twenty, and over time work on their technique and watch them grow. To him, that is the real magic that extends beyond the technology alone, all while acknowledging the beauty and power that technology contributes to the jiu-jitsu community. Insert Meraki.
Check out this effective back take from the guard position that Kenny showed us and be sure to subscribe to our YouTube channel for more techniques interviews and more.