Many people may not recognize the name, Rodrigo Teixeira. But that is no indication of his contribution to the jiu-jitsu community. Rodrigo has been involved in the jiu-jitsu scene for over 25 years. He has shared the mats with the who's who of jiu-jitsu either in competition, with the likes of Marcelo Garcia, Bill Cooper, Cassio Werneck, Rafael Lovato, Demian Maia, Javier Vazquez, B.J. Penn (to name a few), or in training with Kron Gracie, Xande Ribeiro, Rigan Machado, Rodolfo Vieira, and yes, B.J. Penn (again).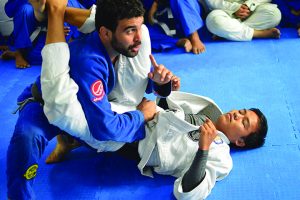 However, outside of competing and throughout his involvement in jiu-jitsu, Rodrigo has dedicated a significant portion of his energy to traveling the world and helping build jiu-jitsu communities in areas where the art is sparse and seldom practiced.
I guess you can say that chapter of his jiu-jitsu journey began when Rodrigo first came to the United States as a young teenager to help his big brother, Pedro Carvalho, establish Brazilian Jiu-Jitsu during, what many consider the first-generation migration of jiu-jitsu, in the mid-nineties- the time when Royce Gracie ruled the UFC and jiu-jitsu was introduced to the North American masses.
Through the years, he was able to establish a very strong (albeit small) competition team of his own, work with Law Enforcement agencies, and introduce the art to college campuses. In August 2012, "The World Traveller" (one of the monikers his students affectionately gave him) decided to turn the page to another chapter in his jiu-jitsu journey. He has since been traveling the globe, growing our community once again by establishing an affiliate academy in India and serving as the lead instructor at "The Gentle Art Academy" in Singapore.
How did you find jiu-jitsu?
Jiu-jitsu found me. When I was 12, my brother insisted that I start training jiu-jitsu. Back then he was a purple belt and had recently opened a gym in Barra da Tijuca, Rio. Soon after that, I couldn't stop thinking about jiu-jitsu.
You've had the privilege of training under many well-known practitioners, who are some of them?
I started training with my brother, who, at the time, trained at the famous Carlson Gracie Gym in Copacabana with fighters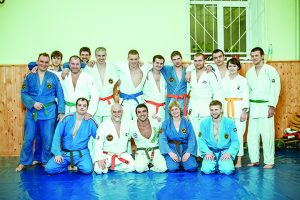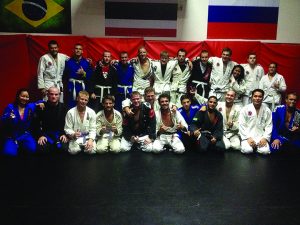 like Murilo Bustamante, Walid Ismail, Minotauro, Ricardo Liborio, and many others. Soon after that, we both went to the US. I went a little bit after my brother, in the beginning of 1995. In 1997, I went back to Brazil where I trained at Alliance with Professor Ratinho.
In 1999, I went back to the US and started training with my brother again and was also going for classes at the Machado Academy in Redondo Beach. In 2000, I was back in Brazil training with Brigadeiro who was a brown belt back then. We would go to De La Riva's for the morning classes where Brigadeiro trained at.
In 2003, I was in the U.S., and in November, I was opening my first gym in Walnut, CA. Soon after that, my brother moved to Florida and so I started training at the Rickson Gracie Academy with Kron. In 2013, I returned to Rio where I started training with Theodoro Cannal, one of the head coaches of the GF Team Rio who I still fight for nowadays.
You've been an instructor for a while, how did you get into that?
When I first moved to the U.S. in 1995, jiu-jitsu wasn't nearly as popular as it is nowadays. There were less than 10 academies in the whole country, so soon after that, in 1996, I got my blue belt. Jiu-jitsu started gaining popularity with Royce and the UFC and due to the necessity and high demand, I had to start teaching group and private classes at my brother's academy in Rancho Cucamonga, CA.
Where are some of the areas you have visited and taught jiu-jitsu?
I've visited 26 countries and had the opportunity to teach classes in 16 of those countries, keeping strong ties with India and Russia at the moment.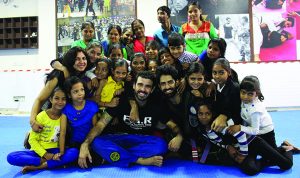 How has your jiu-jitsu evolved since it started?
Well, I've been doing jiu-jitsu for quite some time now. It has been a tough road because I started teaching at such a young age and wasn't as much of a student of the art as I would've liked to in regards to having somebody constantly correcting and guiding me. I had to study at an early stage and learn how to answer other people's questions, which obviously helped me, but it was definitely not the easiest way.
Also, finding people to train wasn't an easy task back in the days. When I got my black belt, I only got to train with other black belts when I faced them in competitions. It was a rough couple of years. But as time went on, more gyms opened and I had the opportunity to train not only with black belts but with black belts that were active competitors and that made a huge difference in my jiu-jitsu.
The whole journey taught me so much. Especially when I was able to put all the struggles and experiences together. Along with that, as much as I feel great, I came to face some limitations due to past injuries and aging which slows down the healing process, having to adapt my jiu-jitsu to those limitations and therefore becoming a lot more technical and strategic.
Like Bruce Lee said, "Be like water, my friend."
There's obviously still a long road to go to where I'll never find the end, but the lessons along the way are surely magical.
Where would you like to go professionally with jiu-jitsu, what's the future hold?
At the beginning of this year, I've found home at the Gentle Art Academy here in Singapore. We all share the same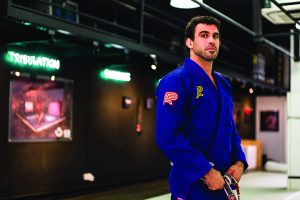 philosophy and the environment couldn't be better. They have become a real family to me.
Although jiu-jitsu is far more developed in Singapore than it was when I first got to the U.S., it reminds me of those golden days where you know you're part of the beginning of something very special. There's a lot to be developed in Singapore and in a lot more places in Asia as well, and I want to be a part of it. India in particular has captivated my interest as I came to meet my now Indian brother, Arun Sharma, and his family who taught me a lot about the Indian culture and its roots on grappling with their millennial martial art called Kusthi. I see a big future for jiu-jitsu there and I want to guide Arun and his students in whatever I can to make his gym grow while keeping jiu-jitsu truthful to its roots and unleashing its full potential in the "Land of Dreams".
Another place that has my heart is Russia. Dimitri Vostrikov and his dad are another family that has become like a real family to me. "Dima" is what I call him, has taken me to his hometown, Voronezh, and a few other places in Russia, to teach a few times and got me awed with the possibilities out there. So many tough guys, with an already amazing foundation due to Sambo, Judo, and wrestling. Some of the toughest but "not yet" technically developed jiu-jitsu fighters I've seen in the new jiu-jitsu scene.
Where have been your most memorable places you've visited so far?
Every place is memorable in its own way, but as mentioned earlier, some people can make a place you've never been before become very special in many different ways.
What's your best jiu-jitsu tip?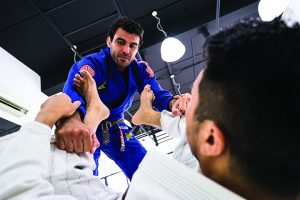 Keep your mind open to the modern and classic styles of jiu-jitsu and look for its hidden secrets. You'll be surprised with both styles' complexity if you look a bit deeper. Don't judge a book by its cover!
What's been the best advice you've ever received?
Don't let anyone tell you that you can't.
Is there anything else you'd like to share with our readers?
Nowadays, it seems that people are looking for a shortcut for everything in life. A pill that's gonna give you six-pack abs in a couple of weeks, a workout program that's gonna have you look like the Hulk in a couple of months, an incredible business that will make you rich in a year… In jiu-jitsu, I happen to see a lot of that as well. Some people are looking for one technique that will submit everyone, a gym that will make you a black belt world champ in a couple of years, and people get frustrated when they realize that there's no such thing. Like in any other area of our lives, there's only one way: hard work and perseverance.
Also, I try to teach my students formulas and concepts that will give them the freedom to create their own jiu-jitsu, always trying to making them see jiu-jitsu as an open book with many blank pages yet to be filled. That's how it evolved from Japanese to Brazilian Jiu-Jitsu, and the way I see it, more and more it is becoming World Jiu-Jitsu. Everyone has the opportunity to add to jiu-jitsu, constantly recreating the art. The possibilities are endless, which is also one of the reasons I love it so much. There's always a new challenge ahead.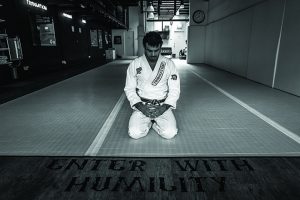 Rodrigo Teixeira – Sitting Guard Pass: