Presenting the Art Within the Art; Henrique Kraychete
To many who are uninitiated to the art of jiu-jitsu, it is common that once you tell them that you are a practitioner in the art the first thing they may spring into is the stereotypical karate stance or some sort of extravagant pose straight out of "Kung Fu Theater". But nowadays, there are many resources that we can point to that can help showcase and explain the concept of jiu-jitsu.
With its continual growth since the days of UFC 1, jiu-jitsu has attracted more and more personalities with a very broad scope. From aspiring MMA fighters, health enthusiasts, military and law enforcement personnel, to the more creative, clothing designers, musicians and people within the film industry. Focussing on the latter, we had a chance to sit down and chat with Henrique Kraychete. A native of Brazil in the lesser-known coastal city of Salvador, Henrique grew up with a fascination of "grade A" Americana action films. At the time he didn't quite realize that there was an actual process to create these movies.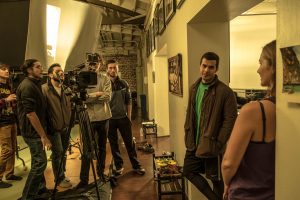 But once he found out that you could go to school to learn the craft of making the excitement that he saw on the movie screens, it was then that he made the choice to go all out and head to the mecca, the "City of Angels", to learn the art of film making.
Although Henrique grew up in Brazil, his exposure to jiu-jitsu was a bit limited. He heard of it, but his family actually was heavily involved in Judo. But that exposure was enough to draw him in towards the Brazilian Jiu-Jitsu community when he started to feel a bit homesick during film school.
After driving by Alberto Crane's Legacy Academy in the Burbank area (the movie and television capital of the world) and wanting to feel closer to his native land, Henrique decided to walk into the academy and eventually begin his own jiu-jitsu journey. It was through this, that he had the idea of shooting a jiu-jitsu commercial for Alberto as a school project that fused his worlds together. Henrique always had this idea that documentaries weren't all that appealing to him, but that soon changed after meeting some of the practitioners at the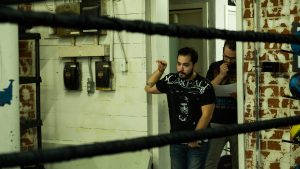 academy and hearing many of their stories. That, along with Alberto's guidance, led Henrique down the rabbit hole that many of us experience and sparked his love for telling other people's stories and in the process showcasing the art through his work in film. In turn, Henrique has found himself as a rising talent who is determined to serve one community by bridging it to other communities and adding value and other elements in how our art is received to the many who would normally spring into the aforementioned "Kung Fu Theater" pose when hearing about jiu-jitsu.
Be sure to check out episode 8 of the Twisted 1's Podcast with Henrique here and you can also check out some of the short documentaries that he's done by clicking here. So be sure to keep an eye out for his work in the jiu-jitsu community. There's a good chance that you may one day see his work on the more "traditional" platforms and be able to say "I remember when he started out doing jiu-jitsu videos".