Happy Birthday Marines! Yellow Footprints and Black Belts.
Semper Fidelis. The Latin translation for the term "always faithful". Or more simply put, "Semper Fi" by our men and women who fill the ranks of the United States Marine Corps. Whenever those words are uttered it serves as a constant and overt reminder to the core values of a U.S. Marine and an ideology in which they hold themselves accountable to.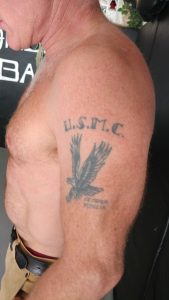 Chris Haueter, reporting for duty.
I had a chance to visit Chris in his Southern California home, which is also the headquarters to his "Combat Base". Not only is Combat Base the name of his program, but he is actually the person often credited for coining the name to the fundamental position within jiu-jitsu circles. That's not hard to believe when you consider that Chris has been around jiu-jitsu for quite some time. He just happens to be one of the members of a somewhat unofficial, but highly regarded group, affectionately named, "the Dirty Dozen". He is one of the first twelve Americans to receive the rank of black belt in Brazilian Jiu-Jitsu. He was also the first American to compete in the Mundials as a black belt.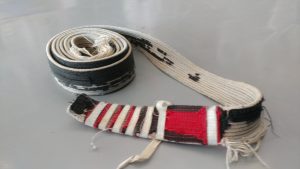 Having grown up in the Southern California area, a hotbed for the martial arts, he was able to be exposed to many of the different martial art forms. He wrestled in high school, studied Shotokan karate, kung fu, muay Thai and also holds a black belt in three other disciplines. Chris has had the opportunity to work with a who's who in the martial arts community. One notable instructor of Chris's was Dan Inosanto (Bruce Lee disciple and close friend). However, once he was introduced to jiu-jitsu by his Aikido instructor, Mits Yamashita, Chris was all in. Hook, line, and sinker, beginning his jiu-jitsu journey under the tutelage of the Gracie family in Torrance CA.
Having served in the United States Marine Corps, Chris has been able to witness the evolution of how the philosophies of hand to hand combat training is taught in the armed forces and although he's been out of the Corps for some time now, he is still actively assisting in training America's finest troops in the art of hand to hand combat through his seminars and workshops.
Chris is well known for his conceptual and very thoughtful approach to teaching. His ability to share stories and weave concepts through jiu-jitsu technique is truly world-class and is, no doubt, a product of his travels to different parts of the world. He has refereed, what must seem like thousands of matches (if I were to guess) and his creative knack to see things from multiple perspectives (he is also an exceptional illustrator and craftsman) most definitely contributes to this level of insight.
Every time I get the opportunity to speak with Chris, I'm treated with engaging and insightful discussion and reminded, that Chris faithful to the arts and faithful to his work. Typical Marine.
Semper Fi and happy birthday Marines!