2019 ADCC: Ryan Wins Double Gold; Galvão Beats Pena, Champions Crowned in Sunday of Epic Matches
Day 2 at the 2019 ADCC was one of those days people will talk about for years. Match after match, the crowd on the stands of the Anaheim Convention Center and also all over the world was amazed and surprised with the level of action performed by the absolute elite in terms of grappling today. The latest edition of ADCC ranks up high among the best in the event's 20 years of history.
The program started with the semifinals in each weight class, then we had the third place matches and the finals. The program concluded with the male open class and the long awaited superfight between bitter rivals André Galvão and Felipe Pena. Here's how everything played out.
MALE
66kg – Augusto Tanquinho though he was overlooked in the bracket whenever favorites were pointed out. He first beat Paulo Miyao via referees decision to reach the final. His opponent would be Kennedy "Cobrinha Jr" Maciel, who waged war against teenager Tye Ruotolo and won with a back take that earned him a 3-0 lead. The final was a battle, but a back take in the final minute gave TAnquinho the 3-0 lead he needed to show everyone he's still a guy to be taken in consideration. In the thrid place match, Paulo Miyao withstood Tye Ruotolo's nasty leg lock attacks to win with a 4-0 lead for two sweeps.
PODIUM
1st – Augusto Mendes; 2nd – Kennedy Maciel; 3rd – Paulo Miyao
77kg – The crown remains on the same head! Jonathan "JT" Torres performed with his usual efficiency and coolness to climb the steep wall and defend his 2017 title. In the semifinal, he beat the always entertaining and always dangerous Garry Tonon 2-0 to meet provocative and extremely tough Vagner Rocha in the final, after the Brazilian had beat Dante Leon via referees decision. The gold medal match was decided literally in the last second, after JT got a hold of Vagner's back and finished with a choke as the clock struck 19:59. Incredible! In the third place match, Tonon caught Leon with a heel hook to be in the podium.
PODIUM
1st – Jonathan Torres; 2nd – Vagner Rocha; 3rd – Garry Tonon
88kg – It's not wrong to say that Matheus Diniz was not in the short list to be a finalist, but he did it anyway. With a back take on Josh Hinger, Diniz built a 3-0 lead in the semifinal that allowed him the chance to fight for the gold medal. On the other side, Craig Jones caught John Blank with a RNC to join Matheus. The gold medal match was a long one, with neither competitor taking unnecessary chances. Already on overtime, Diniz managed a takedown for a 2-0 lead that he defended with his life until the end. In the third place match, Josh Hinger passed John Blank's guard to secure the bronze medal.
PODIUM
1st – Matheus Diniz; 2nd – Craig Jones; 3rd – Josh Hinger
-99kg – Gordon Ryan feels right at home at the ADCC. He made it to the final with a back take on Lucas Barbosa and a 3-0 lead. Dark horse Vinicius Gazola came out of nowhere after a last minute call to replace Keenan Cornelius and made it to the final after he beat former champion Vinny Magalhães with a 2-0 lead. The final was closer than anyone would imagine. Gordon eventually managed a back take to build a 3-0 lead, but Gazola was relentless and did not give up the submission. Lucas Barbosa finished in third place after Magalhães forfeited the bronze medal match.
PODIUM
1st – Gordon Ryan; 2nd – Vinicius Gazola; 3rd – Lucas Barbosa
+99kg – Kaynan Duarte had no easy match on his way to gold. After beating two-time champion Yuri Simões in the quarterfinals, he met up with 2017 champion Marcus Bucheca and won via referees decision following a 15-minute battle. On the other side, Nick Rodrigues continued to awe the crowd as he won a referee decision over Roberto Cyborg to advance to the final. The gold medal match was decided when Kaynan found a way to Rodriuguez back and stayed there until the clock ran out, wining by a 3-0 lead. Buchecha completed the podium as Cyborg forfeited the third place match.
PODIUM
1st – Kaynan Duarte; 2nd – Nick Rodriguez; 3rd – Marcus Buchecha
OPEN CLASS – In a lightining fast bracket, Gordon Ryan and Marcus Buchecha made their way to the final. Ryan finished Pedro Marinho with a heel hook, his friend Gary Tonon with a RNC and Lachlan Giles with another RNC/jaw crank. Buchecha debuted with an armbar finish on Keith Krikorian, then beat Aaron Johnson 3-0 and finished Mahamed Aly with a RNC. The final match was a very long one. In 30 minutes, neither Gordon or Buchecha took chances and the socre stayed at a 0-0 tie. One negative point to Buchecha for lack of action made the difference and turned Ryan in the fourth American to win the open class, after Robert Drysdale, in 2007; Dean Lister, in 2003; Mark Kerr, in 2000 . The third place went to a sensational Lachlan Giles, who finished Kaynan Duarte, Patrick Gaudio and Mahamed Aly with heel hooks to become a crowd favorite at the Anaheim Convention Center.
PODIUM
1st – Gordon Ryan; 2nd – Marcus Almeida; 3rd – Lachlan Giles
FEMALE
-60kg – It's honest to say Bianca Basílio was not the main favorite in the bracket, but who cares. Bia ran through opposition with a fierceness her child-like smile hides very well. She first beat Elvira Karppinen 2-0 to reach the final. Her opponent would be welsh superhero Ffion Davies, who almost ripped Bia Mesquita's arm off in a savage armbar that took the former champion straight to the medics tent. The final was not less savage, as Basílio found the spot to attack Ffion's foot in a nasty toe hold that left Davies in tears and Basílio with the gold medal secured. The third place went to Elvira, as Mesquita could not compete in the bronze medal match.
PODIUM
1st – Bianca Basílio; 2nd – Ffion Davies; 3rd – Elvira Karppinen
+60kg – Who can beat Gabi Garcia? Well, since 2011, only Jessica Flowers did in the 2015 ADCC. Nevertheless, the Alliance superstar made history this Sunday with her unprecedented fourth title in the +60kg division. She first beat Ana Carol Vieira by referees decision following a 15-minute grudge match to reach the final. On the other side, Carina Santi continued to struck down big names as she beat Tayane Porfirio by referees decision after 15 minutes of tough battle. The gold medal match was one sided, as Gabi quickly established control and found a kimura to finish Carina for the title. In the third place match, Tayane beat Ana Carol 5-0 to secure the bronze medal.
PODIUM
1st – Gabi Garcia; 2nd – Carina Santi; 3rd – Tayane Porfirio
SUPERFIGHT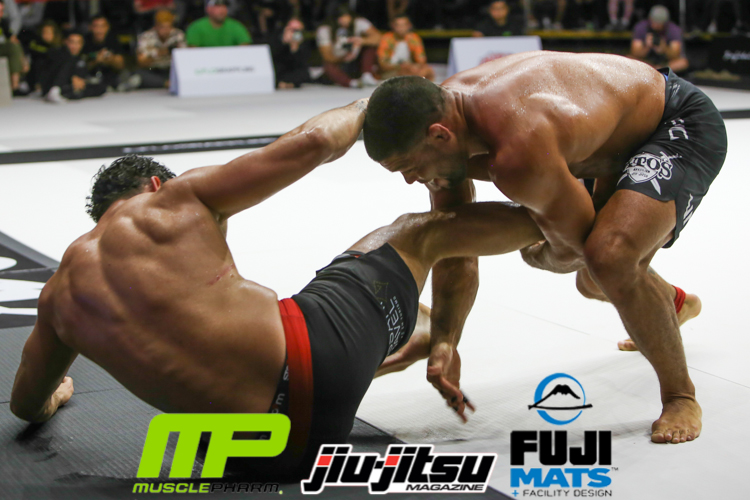 André Galvão had a clear strategy and it worked perfectly. He wanted to keep the match against Felipe Pena away from the ground as long as possible to score a takedown at the right time and control the clock. He did exactly that. Strong as a bull, the Atos JJ leader worn out Pena for almost 30 minutes and always had the initiative. The match started to go Galvão's way early into the 10-minute overtime, when a takedown attempt landed Pena in one of the referee's tables by the sideline. Clearly injured on his left side by the impact, Pena went on, but could not defend Galvão's next takedown attempt and allowed the 2-0 lead. On the ground, Andre played safe and avoided going too much into Pena's dangerous guard game. When the clock marked zero, Galvão was able to celebrate his impressive fourth superfight win in a row. Since the 2013 ADCC, in China, no other athlete has been able to take André's spot. Will Gordon Ryan do it in 2021?
The 2019 ADCC is on the books. Go to our Instagram page to relive all the thrills. Coverage brought to you by Muscle Pharm and Fuji Mats.