2019 ADCC: semifinals set after first day of thrilling action in Anaheim
Day 1 of the 2019 ADCC did not disappoint fans of high paced Jiu-Jitsu. As the best grapplers in the world gathered this Saturday, September 28, at the Anaheim Convention Center, in Orange County, California, fans on the stands and also watching all over the world braced for a full day of thrills and that's exactly what they got.
In all 5 male divisions and two female divisions, almost all matches were high paced with favorites having to work hard to confirm their stands. Several times, underdogs stole the show for the surprise and most of the times joy of the crowd. Here's how each division played out to decide the semifinals, which kick off day 2, this Sunday, September 29.
MALE
66kg – There was no space in the semifinals for all the big names in the brakcet. Paulo Miyao made it to the final four with a 5-0 win on Kenta Iwamoto and a tough battle against Nicky Ryan, where a 2-0 lead was the narrow margin in favor of the Brazilian. Miyao's opponent for a spot in the gold medal match will be Augusto Tanquinho, who first beat Keith Krikorian 5-0 and then Matheus Grabriel by referees decision. On the other side of the bracket, teenager Tye Ruotolo debuted with a 2-0 win over veteran Bruno Frazatto and then beat Pablo Mantovani by referees decision following a 0-0 tie. Ruotolo will face Kennedy "Cobrinha Jr" Alencar in the semifinals. Kennedy first caught Ruan Alvarenga with a triangle and then beat Richard Alarcon 2-0.
Semifinals
Paulo Miyao vs. Augusto Mendes
Tye Ruotolo vs. Kennedy Alencar
77kg – It was another weight class where at least one big name was stopped on their tracks. JT Torres debuted with a narrow win over Ross Nichols via negative point and then beat DJ Jackson 3-0 for a spot in the semifinals. Garry Tonon finished Mateusz Gamrot with a rear naked choke and then beat Renato Canuto by one penalty to meet Torres in the semis. On the other side, Dante Leon beat Jon Satava 3-0 and caught Lucas Lepri's back to win 3-0 and be in the semifinals. His opponent will be Vagner Rocha, who first beat Servio Tulio by referees decision and then veteran Celso Venicius by one penalty.
Semifinals
JT Torres vs. Garry Tonon
Dante Leon vs. Vagner Rocha
88kg – Another stacked bracket treated the crowd to awesome matches. Craig Jones was on point and made it to the semifinals with a heel hook on Ben Dyson and a guillotine on Mason Fowler. He'll be joined in the semis by Jon Blank, who finished Rustan Chsiev with a heel hook and then beat Murilo Santana via referees decision. On the other side, Josh Hinger also submitted two opponents to reach the semis. He caught Gabriel Almeida with a rear naked choke and then locked a guillotine on Adam Wardzinski. Matheus Diniz beat Pedro Marinho 5-0 and then defeated Gabriel Arges by referees decision in the quarterfinals.
Semifinals
Craig Jones vs. Jon Blank
Josh Hinger vs. Matheus Diniz
-99kg – Gordon Ryan's presence on the mats was brief, but in a good way. The 2017 champion finished Ben Hodgkinson in less than two minutes and then caught Tim Spriggs with a RNC in seven minutes. His opponent in the semifinal will be Lucas Barbosa, who beat Perttu Tepponen 3-0 and then defeated Patrick Gaudio by referees decision following a 15-minute battle. On the other side, Vinny Magalhães beat Dan Martinez 4-0 and James Puopollo 2-0 for a spot in the semis. Vinicius Gazola made it to the semis with a win on penalties over Paul Ibarra and a referees decision over Jackson Sousa.
Semifinals 
Gordon Ryan vs. Lucas Barbosa
Vinny Magalhães vs. Vinicius Gazola
+99kg – Marcus Buchecha is out to defend his 2017 title. he made to the semifinals with a 2-0 win over veteran Antonio Braga Neto and a 3-0 win over new talent Victor Hugo Martins. His opponent for a spot in the final will be Atos JJ jewel Kaynan Duarte, who finished Eldar Rafigaev with a RNC and then outscored Yuri Simões 3-0. On the other side, blue belt Nick Rodriguez beat Mahamed Aly by referees decision and then Orlando Sanchez by one penalty. Roberto "Cyborg" Abreu made it to the semifinals with a 2-0 win over Hudson Taylor and a 6-0 lead over John Hansen.
Semifinals
Marcus Almeida vs. Kaynan Duarte
Nick Rodriguez vs. Roberto Abreu
FEMALE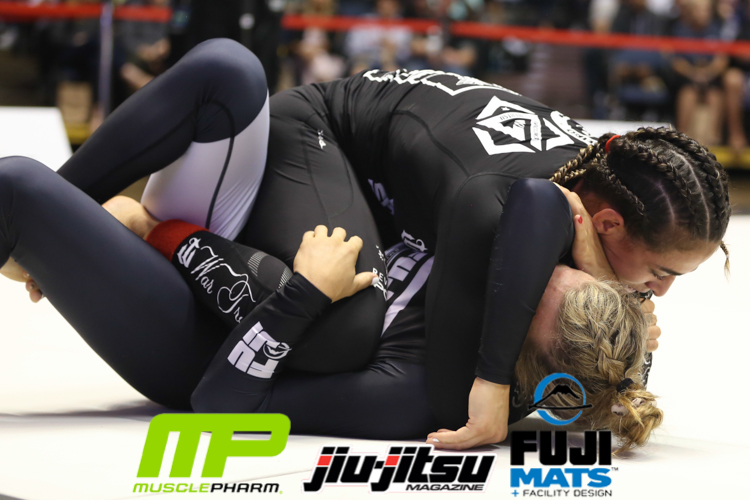 -60kg – With one match to each semifinalist, the women's division went by quikcly. Bia Mesquita caught Jenna Bishop with a katagatami. She'll face Ffion Davies, who beat Rikako Yuasa 12-0. On the other side, Bia Basilio finished Lives Gilles while Elvira Karppinen beat Catherine Perret 2-0.
Semifinals
Bia Mesquita vs. Ffion Davies
Bia Basilio vs. Elvira Karppinen
+60kg – Gabi Garcia is steady on her way to make history. She beat Stephanie Egger 2-0 to reach the semifinals, where she will meet Ana Carol Vieira, who choked Amanda Leve from the back. On the other side, Tayane Porfirio beat Jessica Flowers by referees decision and Carina Santi outscored Nathiely de Jesus 8-0.
Semifinals
Gabi Garcia vs. Ana Carol Vieira
Tayane Porfirio vs. Carina Santi
Day 2 of the 2019 ADCC kicks off this Sunday morning. Follow the complete coverage on our Instagram @jiujitsumag. Coverage powered by Gentle Art Media and brought to you by Muscle Pharm and Fuji Mats.