Valentine's Day. That special time of the year where people make an attempt to make special acknowledgments to their mate to show them how much they value their love towards one another.
It is a commonly accepted notion that jiu-jitsu in some fashion is a "brother/sisterhood". It is not uncommon to hear practitioners offer up a "thank you brother" or insert a random "my brother" into any part of a statement, question or comment. However, what may be a little less acknowledged are the occasional "mat romances" that take place and develop into, or add additional substance to, a full-fledged marital union.
You will hear time and time again from the people who take part in "The Gentle Art", that jiu-jitsu is a very cerebral endeavor, and that the problem-solving aspect of the art is not only beneficial during moments of hard training, but how that concept benefits them in all aspects of life, such as in business, parenting, and an overall fitness standpoint to name a few. With this said, it's only logical to believe that the concepts of jiu-jitsu can even help maintain a healthy relationship with, not only general society but most importantly, to your mate.
We had the opportunity to connect with a few of those who seem to be enjoying the fruits of said marital union and we get views from people who are involved in different professions and different stages of the jiu-jitsu journey. The following clips offer a quick glimpse into what kind of role jiu-jitsu as played in being a positive presence in their relationships and how it helps them address their respective daily challenges. Happy Valentines Day to everyone!
Anne Marie and John-Paul Maltes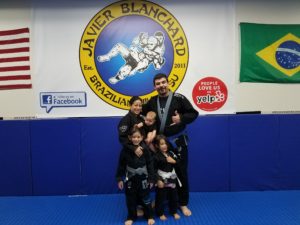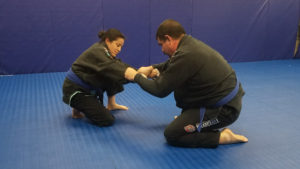 The year was 2011 and as a contract video editor, a stay-at-home mom, and homeschooler, one of Anne's friends had asked her to video some of another friend's jiu-jitsu competitions. After meeting the professor whom she was filming, Anne decided to take the initial trial class and was hooked. John-Paul (JP) however, was a bit more hesitant in that pursuit (Anne and JP were already married). But like a good submission attempt, sometimes it just takes a little time for the submission to fully sink in, and that's exactly what happened with JP. Figuring that he could use the extra physical activity to counteract the office environment of being a business systems analyst, JP took the plunge as well and began his journey as well. With the jiu-jitsu bug having it's hooks in, now the entire family, which includes their three daughters (the youngest is 16 months old, but we know where this story is going for the youngest one) trains. JP and Anne now have created a jiu-jitsu based apparel line "Black Falcon Apparel" which helps represent the community that they love so much. Check them out and help someone else fall in love with the art that you love at www.blackfalcongear.com.
Jeremy and Nikki Ortiz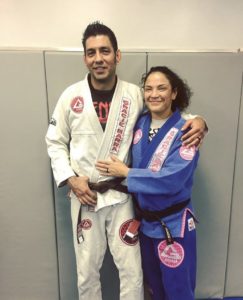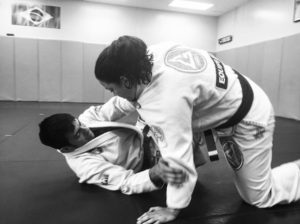 Coming up on their fifth year of marital bliss, Jeremy and Nikki Ortiz's story together has its roots on the mats. Training at sister academies before they even met, it was a common training partner and joint events of the two academies where these two not only locked lapel grips on each other but also eyes. Not only were they a part of the same family in jiu-jitsu academies, but it was also soon discovered that they even shared employment at the same law enforcement agency which made their bond in jiu-jitsu that much more solid in their efforts to keep our streets safe. But, hearing them tell their story will have you feeling the love in the air.
Eve and Rener Gracie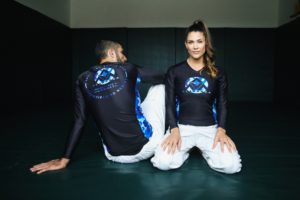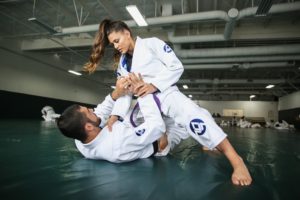 The ultimate ambassadors of love and jiu-jitsu, Eve and Rener Gracie share uncommon grappling pasts of two different worlds (Eve's WWE pro wrestling and Rener's Gracie Challenge backgrounds) that eventually culminated via Rener's world-renowned verbal jiu-jitsu skills as he skillfully achieved positions to make the ultimate proposal and begin a new mat dynasty. Now both of them are the quintessential jiu-jitsu power couple leading their own empire through seminars, events, videos, apparel, and INSANE drive to represent the culture as husband and wife on the highest level. It's not only the "Gracie Way", it's THEIR way. You can keep up with their latest projects by check-in with them at www.gracieuniversity.com.