Living The Dream – Roberto "Cyborg" Abreu
After Overcoming Many Obstacles on the Road to Beijing, ADCC Worlds 2013 Absolute Champion, Roberto "Cyborg" Abreu is Now Living the Dream
We all have dreams, big and small, and they drive us to our greatest heights. Sometimes we hold the same dream close for a lifetime, other times our dreams change daily with our moods. Some people meet their dreams through a stroke of good luck, while others toil away for a lifetime trying to manifest them. And every now and then, when the stars align and the timing's right…BAM! It happens and you are now the holder of an experience so great, an event so transformational, a moment so monumental, you are permanently altered by its beauty and wonder forever. If it sounds like I'm talking about that instant when you meet your true love, in a way, I am. Jiu-jitsu means different things to different people, and in the case of Fight Sports' black belt Roberto "Cyborg" Abreu, jiu-jitsu means everything to him…it's his life, his true love…and now, after winning the coveted open class title at the ADCC Worlds 2013, which is the most prestigious, prominent and esteemed grappling tournament on earth, and defeating multi-time world champion Marcus "Buchecha" Almeida in the process, jiu-jitsu is also his dream come true…his "happily ever after."
Cyborg is Created
Roberto Abreu was born and raised in Mato Grosso do Sul, the countryside of Brazil.  He was raised on a farm in the middle of Pantanal, one of the most beautiful ecological reserves in Brazil until he was 10. Cyborg always had the support of his parents to play sports and before he started training jiu-jitsu at the age of 17, he had already collected many medals in several sports like swimming, Judo, Karate, and Capoeira. With only two weeks of jiu-jitsu under his white belt, he won his first competition. After that, he was hooked. Three months later, Roberto came to the US as an exchange student to study English. His dad wanted him to live in a similar environment as the one he had in Brazil, so Roberto ended up in Plummer, Idaho, a small city of 800 people. It turned out to be one of the best experiences of his life.  His host mom would drive him to jiu-jitsu classes in Spokane, Washington three times a week. He eventually received his blue belt there. A year later, Roberto went back to Brazil. Shortly thereafter, he got into a very serious car accident. The car flipped many times and threw him out of the front window. The car ended up landing on top of his arm. After having surgery, the doctors told him he would never be able to move that arm correctly again. But Roberto didn't listen. He went back to training and four months later, he placed for the first time at the Brazilian Nationals. That's when his coach started calling him "Cyborg." It was a mark…a gift that would stick with him forever.
The Dream Begins to Form
In 2002, Cyborg's dream began. He knew that jiu-jitsu was his life. He opened the first Fight Sports Academy when he was still a purple belt, with the help of his dad, who is his biggest idol. He trained while he studied at two universities, majoring in business and fitness. He built his students, who were always his only training partners (he's never had a professor). He began to accomplish many things: he won the Brazilian Nationals, the Pan Ams, and the Worlds, defending Team Nova Geracao from Rio. In 2004, Cyborg received his black belt from Francisco Toco Albuquerque, his mentor and friend, someone very special to him. Cyborg fought for two years on the Brazilian National team of wrestling. In 2007, Cyborg competed in the first Long Beach Worlds. On his way back home, he stopped in Miami to visit his Uncle Lauro. He was offered the opportunity to stay in Miami and teach at a gym and he accepted. Conquering a new country with only $800 in his pocket was tough. Cyborg lived on the mats and ate $1 food from CVS to get by, but that didn't stop him. "Tough times make us understand the real value of every little accomplishment we earn," he says, "Adversities make the champion!" Over time, Cyborg brought his students, Marcel Gonçalves, Jake Mackenzie, Paulo Azambuja, Ricardo Rezende and others to help him out, and little by little everything started coming together. After years of hard work, his team got stronger. He and Pablo Popovitch decided to create a team called The Avengers, and they won many world titles, including the Worlds and Pan Ams team titles. And now, after winning the silver at ADCC 2009 and a bronze in 2011, Cyborg's dream has finally arrived: 2013 ADCC Absolute Champion!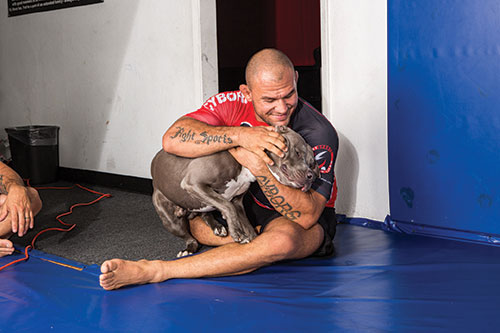 Did you train differently for this event than you usually do?
For the first time in a long time I felt 100% dedicated to training. I got instructors to cover my school, and I got in a serious conversation with my personal trainer, Eduardo Ferrino, who is like a brother to me and has trained with me for the last six years. We sat together and talked two and a half months before the ADCC. I still had a foot injury from the Worlds, so I couldn't run or anything like that. We created a spreadsheet showing how the training would go. He told me I was going to have to trust him. He told me I was weak. I hadn't trained hard for two years. Before the ADCC I was competing out of shape, basically. I was doing physical therapy for my shoulder, then I had knee surgery, then I injured my foot at the Worlds. I was also running my businesses, which took a lot of my time. I just had a bunch of things going on, which frustrated my progress. Eduardo said I was going to put on some weight so I could get stronger. During my first month I did only conditioning. I pushed really hard. My regular weight is 225lbs. At the end of the first month and a half, I was 245 lbs. I've never been that big in my life! I was so heavy, but I was so strong. I had to put on muscle so my body wouldn't break again. My shoulders were weak, my knee, and my foot…I was getting smoked by everybody in training. I thought, "This sucks!" Eduardo said, "I told you to trust me. Just do what I tell you to do and you're going to be fine." The second month I focused on jiu-jitsu and spent a lot of time training. I did 10 rounds of 10-minute training back to back with all of my guys. I had some good training, especially with bigger guys, which I haven't had in the past. That, plus my conditioning in the same day. It beat me down. It was tough getting in shape, but everything was so perfect. I was at my peak when I got to China. I didn't get tired at all.
How did you do in your weight class?
I had 4 fights in my weight class. My first fight was against Mike Martelle from Canada. I armbarred him in 30 seconds. My second fight was against Orlando Sanchez. I had a war with him. He's so freaking big! He's like 295 lbs! In ADCC rules the first 5 minutes you can't earn any points. During the match I swept him 3 times. I could sweep him, but not hold him. He's very explosive and big. I had 2 overtimes with him, so our match went 20 minutes. I cut his eye, bloodied his nose and lips. He cut my face, my eyes, my jaw. It was a war. I beat him on a referee's decision. It was a hard fight. On the second day I faced Buchecha in the semi-finals in my weight class. He's a good friend of mine. We don't like to fight each other. We talked and said, "Let's just put on the best fight ever." In the beginning of our 10-minute match we started really hard, but I wasn't 100% focused. I lost the competition mindset. He got the best of me. He took my back to earn the victory. I feel like I could have won if I'd had the right mentality, but I lost. At the ADCC you have to fight for third place, so I went against Jared Bopp. I took his back and ended up winning 5-0, so I won the bronze.
Then you went into the open class.
Yes. I had 4 fights in the open class. I won the first fight by RNC, the second 10-0 and my third was against Keenan Cornelius. It was a good match. He's winning everything. He's really, really good. The first 5 minutes we started standing up; I almost took him down, so he pulled guard. I almost passed twice, but never engaged 100%. The next 5 minutes, I passed his guard and took his back twice. I won 6-0. Then I faced Buchecha in the final. I beat him 10-0. No one scored a point on me in the whole open class. It was perfect!
What was the difference between your first and second fights against Buchecha?
A friend once told me that you change in every fight. If you fight me now, I'll be different 10 minutes from now if I fight you again. I will change, and it could be for good or for bad. I realized after my first fight against Buchecha where I needed to focus my energy and what I needed to capitalize on. Going into the finals was such a big deal for me. Winning this title has been my dream my whole life. Just to have this chance was amazing. It was a once in a lifetime chance in my hands. Personally, I think Buchecha was a little over confident. I think he thought he was going to take it again. This was the fight of my life. I felt 10 times stronger than I ever have before. I was so fast, he didn't have a chance. He couldn't do anything to me. I was confident in every move. Every time I touched him, I overpowered him, in jiu-jitsu and in technique. It was so perfect. I felt blessed. The match went 20 minutes and I never let him rest.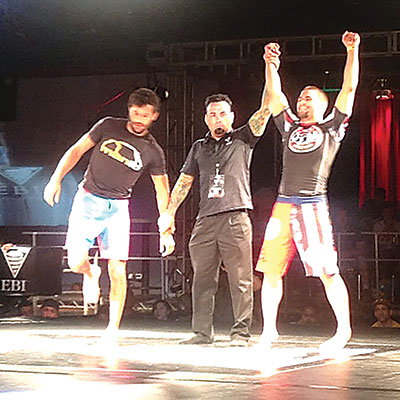 How did you strategize for all these fights?
The strategy changes with everyone you compete against. Competing against Keenan, I know he's really hard to pass, so if you get the pass in the first 5 minutes, you're not going to get points and he's not easy to submit. So, with him, I felt it was better to wait and then pass once the points counted. But with some of the other guys who are really good wrestlers, and not as good at jiu-jitsu, I wanted to get in there and finish it as fast as possible. I would try to submit them in the first 5 minutes to end it. For the guys who are really good on their feet, they tend to not engage in the first 5 minutes and then they pull guard in the last 5 minutes. If the match goes to OT, you're not allowed to pull guard in OT, so if he gets you down, he can hold you and get you like that. So, everyone you compete against, the strategy has to be different. ADCC is really special. It's a fight that anyone has a really good chance of winning. It doesn't favor jiu-jitsu guys.
How many times have you competed at the ADCCs?
This was my third time. My first event was in 2009 in Barcelona. I took 2nd place to Fabricio Werdum. In 2011, I was in the semi finals with Fabricio Werdum and lost again. I took bronze on a referee's decision.
Maybe you and Werdum should have a rematch at Metamoris to see who the true champion really is…
(Laughs)…I would LOVE that. That would be a really good Metamoris fight.
Why do you think your performance at the ADCC was so strong this year?
I think overcoming my mind and wanting to conquer my dream made the difference. Overcoming yourself and your perceived limitations are the hardest things for someone to do. I have so much going on in my life, and winning the ADCC represents everything I've worked my whole life for. I've conquered my dreams one by one, believing in my potential and working very hard. It's made the victory more special. I've had nothing given to me; I've always had to strive for everything I have.
What was the most memorable part of your trip to China?
I went to Beijing by myself the Friday before. I was sure there'd be a lot of people there, but no one was there. No one spoke English. All I ate were bananas the first day and when I finally tried to eat regular food, I got food poisoning (Laughs). I thought, "I trained so hard to make this happen, and now I'm in trouble." On Sunday, I ran into Rickson Gracie in the lobby. I had breakfast with him and Kron. We had such a nice conversation. I was honored to have many meals with him over the next few days. He is a legend. I've never looked up to anybody in jiu-jitsu, but he's different. I was like a little kid with him. I asked him to tell me stories about his life and his fights. I bugged him all day long to tell me. I was like a sponge; I soaked it all up. Then I asked him one important question. I asked him what the toughest fight of his life was and he told me the story. He said when he was only 17 he took a fight with a huge guy named Zulu, who defeated everyone back then. After the 1st round of the fight, Rickson said he couldn't submit Zulu because he was so strong. Before the 2nd round he told his dad (Helio Gracie) that he couldn't go back out there and face him again; that he was too tired. His dad said, "Are you crazy?" His dad and brother threw him back in the ring and Rickson ended up submitting him. He told me he never backed off any mental challenge again after that. He said he realized that Zulu must have been just as tired as he was. It was important for me to hear this. I had so much on my mind the day of the finals. We are our own worst enemies. I'm sitting there thinking that I was tired, I have all these injuries…our minds trick us into a bunch of excuses as to why we can't accomplish our dreams. I'm a Christian, and I really believe that we have to have faith and understand that we have someone bigger than us watching over us. I have it written on my arm that I'm the strength and courage of God. And my faith has always given me the strength to overcome my biggest fears. I went back to my room. I put on Gospel music. I had so much peace inside me. I headed to the elevator to go over to the gym for my fight. There was no Internet in the rooms, only in the lobby. When I stepped into the elevator, I received a message on my phone. A friend sent me a scripture from the Bible: "I can do all this through him who gives me strength." There's no way I should have gotten that message. I thought, "Wow! God is sending me a message! Today is my day." Having Mestre Ze Mario Sperry in my corner on the first day and Pablo Popovitch in my corner the second inspired me a lot as well. After I had fought my weight, the officials started calling for the absolute. They only allow 16 athletes in the open class. When they asked if I wanted to fight in it I said, "Of course!" At that time, I still had concerns on my mind, but knew I needed to fight. As I started warming up, I all of a sudden felt like I had nothing to worry about. I fought 100% with my heart during the whole open class. It was such an amazing experience for me just being there. I overcame myself – my body, mind and spirit.
It sounds like you conquered more than just the open class. It sounds like you also won the war with your mind, which is no easy feat!
Yes, that's true. I was there for my dream. I can't stress how important it is to give value to the things we conquer. I cried for a whole day after I won because the victory meant so much to me. If I'd won the ADCC earlier in my career, it wouldn't have been so precious. Everything happens at the right time and I'm so happy it happened this way. I hope I inspire people with my victory. I conquered my dream.
Your win is inspirational for many reasons, not to mention that you turn 33 in December and you beat a world champion 10 years younger than you.
Yes, and I have a lot on my plate! Buchecha is a young and very dedicated athlete. It definitely gets harder to accomplish these victories when we're older and have more responsibilities. When I was younger I didn't have 4 companies to run, gyms around the world, and students competing everywhere. I didn't have to be a teacher and a businessman and a parent to a bunch of kids at my school nor be a competitor on top of it. That's the whole difference; where my focus is. It's so much harder to accomplish these things today, but I went there and I did it. To win the open class at this time in my life…that's why I just dropped to my knees and cried. It's truly a blessing. It took a lot of overcoming and it was such an accomplishment for me. It's a dream come true. I can only thank God for the opportunities I have in life, to be able to live for my passion and for having so many special people in my life. I dedicate this victory to my parents. My family has always supported me and given me the values I needed to become a champion. The true values of a champion are beyond the medal; they're of the heart. It's in the history you wrote to become the champion. So, thanks to my parents for giving me the tools I needed to fight for my dreams and to be the man I am today. I also want to thank my precious students, friends and fans that supported me in accomplishing what I have. We've built a beautiful family over the years, and they're my motivation to keep reaching for bigger dreams. This dream started over 10 years ago in Pantanal, Brazil and I'm the real proof that every dream is possible. It doesn't matter how far it looks from your hands. If you truly believe it and are ready to bleed for it, the Universe will conspire to make it happen! I conquered my dream.
Writer's Note:
If you want to learn more about Cyborg's extraordinary ADCC Worlds 2013 journey, check out Stuart Cooper's film at:
tinyurl.com/JJMCyborg