Guide To Knee Pain & Injuries
When you feel a pain in your knee, your mind might quickly go to the worst-case scenario. That reaction might be warranted or not. Here's a simple guide to help jiu-jitsu practitioners know when it's OK to keep training, when to be a little cautious and when it's necessary to stop and seek immediate treatment. While this is just a guide with a few examples of some common scenarios, any injury should be evaluated by a licensed healthcare provider and treated accordingly.
Don't Worry, but Be Cautious
Training in pain is rarely ever a good idea, but there are some cases where pain may just be the result of lots of "mileage" on the mats.
Osteoarthritis: Say you are a seasoned grappler who's been training for over 10 years. You're past your physical prime and have entered middle age, but your experience has made you a force to be reckoned with even among the younger alphas at your academy. There is a good chance you have some expected wear and tear in the knee. When the cartilage lining the joints isn't as smooth as it used to be and the bones have started to show signs of spurring and sharp edges, you have degenerative osteoarthritis in the knees. Symptoms generally include stiffness, dull and aching pain that initially increases with activity and seems to gets better as you do more. Long periods of inactivity also seem to make the pain worse, but it's nothing a little Advil doesn't make more tolerable.
Patellofemoral Syndrome (PFS): Another case where training may not be detrimental to overall knee health, but it's certainly unpleasant, is when the patella (kneecap) does not stay in proper alignment. As the knee joint flexes and extends, the patella does not track properly and tends to pull off to the side causing irritation and wearing of cartilage under the kneecap. This is caused by numerous factors, including tight hip and quadriceps muscles, anatomical bowing of the knees, arches that are severely collapsed, or having wide hips (increased Q angle). PFS is the most common cause of general knee pain without trauma. People who suffer with a patellofemoral syndrome will complain of a vague dull and aching pain that increases after activity and also gets worse with prolonged inactivity. Sitting or driving for long periods of time can make the pain more noticeable.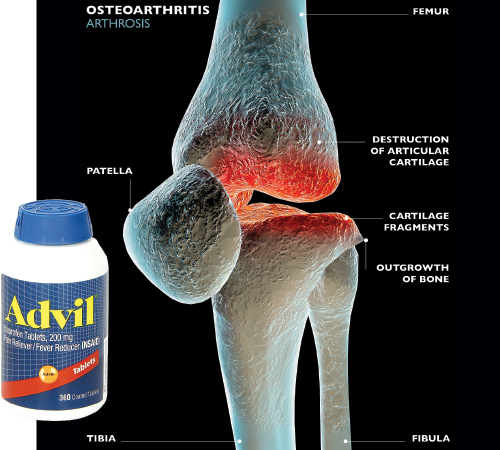 Stop Rolling and Ice It
As a rule of thumb, when you have sudden sharp pain in your knee that makes you want to stop moving, you did something on the more serious side. Ligaments get sprained, muscles get strained and bones move in ways they shouldn't. When these types of injuries occur, your best bet is to get off the mat to prevent further injury.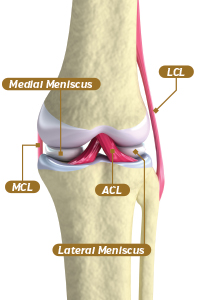 Medial Collateral Ligament (MCL) Sprain
If the foot is planted and you take a hit from the outside of the knee you will likely have injured the MCL. Think of what would happen during an aggressive high speed Toreando pass with the opponent's knees planted. Often times you will hear a popping sound followed by the sudden onset of sharp pain on the inside of the knee. Initially, your knee may hurt even when you don't move it, but you will most definitely feel it when you make any movements that bring your knee inwards while the foot is outwards. The MCL is one of four major ligaments that stabilize the knee. A significant sprain will create instability in the knee and set you up for further injury. Get off the mat, ice it, take some NSAIDs, rest up and let healing happen. Once it feels better you should start doing exercises to strengthen and stabilize the knee.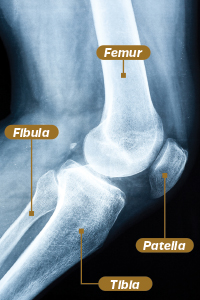 Patellar Dislocation
This happens when your knee twists in one direction while your kneecap goes in the other direction. You will hear something that sounds bad and probably get that slightly sick to your stomach feeling that happens when your body senses a part of anatomy moved in a way it shouldn't have. The pain is initially very intense and subsides when the kneecap goes back to its normal position. The pain from this can be long lasting however. The retinaculum is connective tissue that holds the kneecap in place, and it is often torn during a patellar dislocation. If this is the case, the kneecap can be unstable, moving around more than it should. A common source of pain post dislocation is bone bruising. When the kneecap dislocates and moves out of the proper position, it can impact part of the femur and cause damage to the cartilage or bone itself. This type of injury takes a long time to heal, so staying off the mat is critical to let healing take place.
---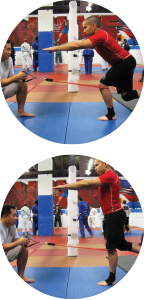 Rehab
What's the best exercise to rehab an injured knee? Terminal knee extension exercises against resistance are a great way to build strength around an injured knee. This exercise helps stabilize the knee from many different angles. Perform 3 sets of 10 reps a few times a week. Vary the angle of pull to get the most benefit from the exercise. Don't forget to mix in some Kinesio tape.

---
See the Doctor and Get an MRI Now!
When you have a knee injury like this, there is no doubt you will know it. We're talking about pain that is a 12 out of 10 on the pain scale. It's the type of injury that makes even the most soft spoken and mild mannered jiu-jitsu practitioners spew all sorts of expletives from their mouths. A trauma to the knee like this will literally leave you paralyzed in pain as you grasp your knee like it's the most precious thing you own. Broken bones with gross deformities in the leg or thigh warrant a trip to the emergency room right away. These injuries almost always require surgery and there is no way for you to be able to train until then.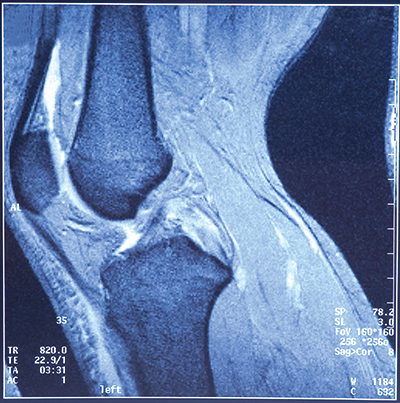 Anterior Cruciate Ligament (ACL) Tear
Forceful hyperextension at the knee is the most common mechanism of injury for ACL ruptures. An aggressive single leg takedown attempt on a foot that is planted is a prime example of how this injury occurs. You will almost definitely hear a loud pop followed by a feeling of instability in the knee that makes standing and weight bearing near impossible. Without a stable ACL any sort of grappling activity would be severely limited, so surgical repair is necessary.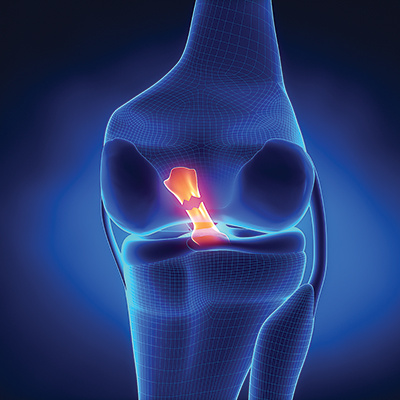 Meniscus Tear
Planting and twisting motions in the knee can cause tears in the cartilage that lies between the thigh and leg bones. While small tears don't require surgical management, a significant tear like a bucket handle tear can be severely limiting. Often times the affected knee will lock in place making extension very painful. Instability is also a common finding with a torn meniscus and the knee will give out even during simple weight bearing activities like walking. Substantial tears are managed through arthroscopic surgery to remove torn fragments or to suture pieces together.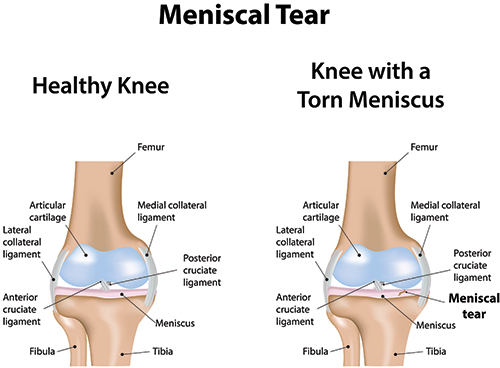 Worst Case Scenario – Odonoghue's Unhappy Triad
This is what happens when we hear someone "blew out" their knee. The anterior cruciate ligament is torn, the medial meniscus is torn and the medial collateral ligament is torn. A hard hit on the knee with a planted foot is what causes this injury. Aside from the intense pain associated with this type of injury, the knee is so unstable it is not functional in any capacity. Multiple surgical interventions are required to make the knee stable in order to do what it's supposed to. This means you will be off the mat for at least four to six months, and it may even be a year before you feel like you're back to pre-injury status.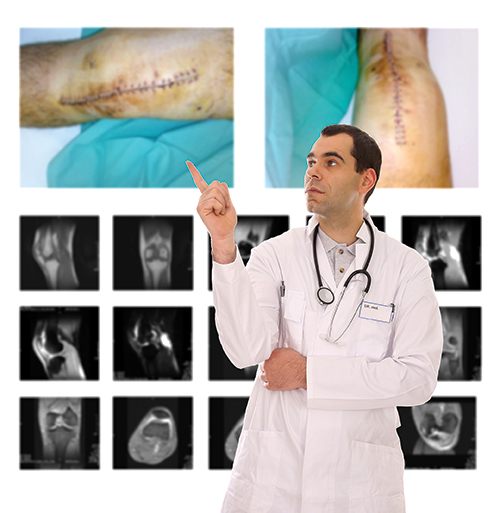 With all of these injuries, whether they are chronic or acute, it is imperative to undergo a strengthening and conditioning program to restore strength, range of motion and stability in the knee to resume jiu-jitsu activities. Fortunately, there are few knee injuries that are truly ever career ending for the jiu-jitsu athlete. If you have the resolve and the desire is there, you will be able to resume normal training, or at worst, train with modifications and focus on a different set of skills. You may not want to make the X-guard or De la Riva guard a big part of your game with a bad knee, but as you know, that is the beauty of jiu-jitsu in that it is so deep with possibilities.