The Evolution Will Be Televised
Garry "The Lion Killer" Tonon's MMA career is officially underway, and boy does it look promising. After much discussion about if, when and where Tonon will make a transition to MMA. Well, yes it has finally happened, last Saturday, in one of the international capitals of fight culture. Thailand! Under the banner of the ONE Fighting Championship organization.
First on the list of opponents for Mr. Tonon (1-0) was Richard "Notorious" Corminal (4-4) of the Philipines. A Muay Thai fighter who presented a credible threat in the stand-up department with all of his victories coming in the form of TKO.
Tonon, flanked with the familiar faces of Tom Deblass and John Danaher in his corner started the fight with a nice bounce in his stance and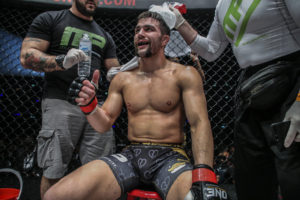 good movement and didn't look like he was in any rush to get into grappling distance where he would enjoy his biggest advantage. Instead, he took his time and in the process was able to ease a bit into the experience of taking shots from an opponent and eating a leg kick early on. Unfazed, Tonon responded in kind with two consecutive kicks of his own, showing his willingness to engage on the multiple levels of MMA competition and not mix up his arsenal a bit. Tonon also displayed decent head movement for a debuting fighter and was able to stay in the pocket, pick his shots and fire off some clean counter punches and kicks of his own.
It wasn't until around the 3:33 mark of the first round that Tonon shot in to attempt and score his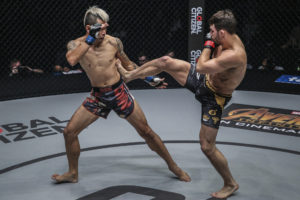 first official takedown in his MMA career. He followed his takedown up with some ground and pound within Corminal's guard but not really landing anything of significance. Corminal was eventually able to scramble back to his feet, in which Tonon would greet him with a solid lead left hook, and following up with a thunderous right hand to the chin that dropped Corminal with less than a minute left in the round. Tonon pounced for the finish with some more ground and pound, Cormimal was still scrappy and was able to survive Tonon's onslaught to make it into the second stanza.
Looking to capitalize on the momentum of the first round, Tonon came out to meet Corminal center cage to kick off the second round by opening up with good movement and a few lead kicks to set up a single leg attempt which was successfully stuffed my Corminal, which only delayed the inevitable. With Tonon establishing a body lock from the single attempt, he was able to eventually earn a successful outside leg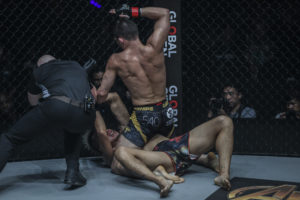 hook takedown and it was from here that the end was near. Applying a highly technical ground and pound and effortlessly riding the top position Tonon was able to land vicious blows to a game Corminal who was able to briefly make it back to his feet, only to be taken right back down with another outside leg trip and proceed to administer another vicious sequence of ground and pound to force the referee to stop the match at the 3:40 mark of the second round.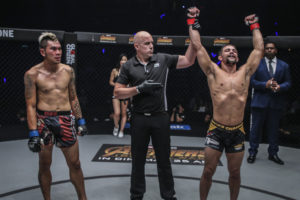 After all of the speculation and talk about how Tonon would fare in the realm of MMA and how he would perform once blows were coming at him with bad intentions, it looks as if Mr. Tonon passed his test with flying colors and in conclusion, it looks like Mr. Tonon is set to give his MMA opponents the same headaches as his past grappling opponents and chances are, you will be able to tune in and watch what can very well be the beginning of a new era.
All photos courtesy of ONE FC.