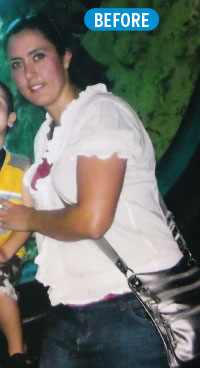 Hometown: Pinehurst TX
Age: 34
Height: 5' 11"
Starting Weight: 210
Current weight: 
150 (142 lowest)
The one thing you've got to love about children is that they're brutally honest. While the majority of times this behavior usually springs up laughs from family and friends, there are those times that it can be a slap to the face. With cancer and diabetes being a staple in her family, Natasha Steffen found herself going from one non-working diet to the next. She was overweight, depressed and had given up out of frustration, until she was confronted by her children. Natasha got an extreme wake-up call when her sons dropped this on her, "Mom, you are really fat and we don't want you to die." Ouch! It doesn't get more honest than that. She may have been depressed beforehand, but the feeling she got when she saw the fear and hurt in their faces made her heart sink. It was then and there she decided that she had to make a change.
Most people avoid stepping on their bathroom scales for fear of what dreaded number will appear. Natasha avoided this by never actually owning one. Eventually, that day came and when "210" registered in big, bold characters, it shocked her to the core. Now, it was there right in front of her and there was no way to deny it. Though it wasn't easy, she began counting calories and eating right, but once again, she realized that diet alone was never going to get her to her goal.
Ultimately realizing she needed to exercise wasn't very motivating; especially since Natasha wasn't a big fan of traditional workouts that felt she would quit out of boredom. She needed something fun that she would stick with, and she found it in cardio kickboxing at Magnolia Brazilian Jiu-Jitsu with Carina Caldwell as her instructor. While the weight started coming off slowly, after six months she decided to try jiu-jitsu and mixed martial arts with Scott Caldwell and trainer Derek Bain. Her weight loss not only sped up rapidly, but she was gaining muscle, relieving stress, and most importantly, she found new confidence within herself. So much so, that after threes years of training, Natasha decided to try her hand at fighting in MMA and having fitness model pictures done this year. Not bad for someone who went from 210 lbs, wearing size 16 pants to 142 lbs (and counting) and is now a size 4. She's gained back a little since reaching 142, however she says that it's the right kind of weight, muscle.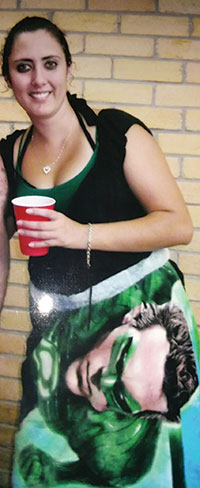 While these are all great achievements, there's also been another great reward from the entire process. Natasha's involvement in jiu-jitsu has brought her family closer together as her two sons participate in the kids class and her husband trains by her side in the adults class. The family also got much larger as she considers all the trainers, staff and her teammates at Magnolia Brazilian Jiu-Jitsu to be her extended family.