Gender Roles in Jiu-Jitsu Valerie Worthington Talks Gender and Respect in Jiu-Jitsu
Did that situation go over the line?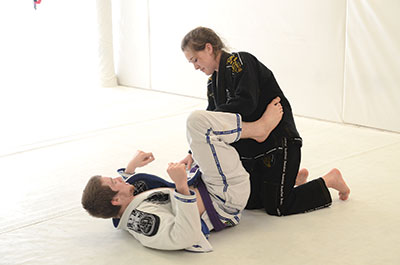 For your own role in the jiu-jitsu community, Worthington recommends that you ask yourself the following questions:
Does it feel right?
Are you having fun?
Are you feeling safe?
If you had been treated that way anywhere else, how would you feel about it?
If you answer 'no' to any of these questions, remind yourself that jiu-jitsu can be a high-stakes environment, but the rules of mutual respect still do not go away. From there, Worthington suggests taking the following steps:
Go to an out-of-town camp or seminar to try and separate your interpersonal experiences from your jiu-jitsu experiences for additional clarity.
Bring your concerns to the attention of your instructor.
If you are not comfortable going to your instructor (perhaps a sign in itself), reach out to a jiu-jitsu community or forum outside of your gym, or even perhaps outside of jiu-jitsu.
---
In an environment steeped in machismo and feudal martial arts tradition, trying to marry femininity with the inherent violence of the sport is difficult for some men. As strange as it may sound, the hierarchy of belts and instructors may actually complicate the respect owed to all students, regardless of their rank.
"In jiu-jitsu, there is a hierarchy. White belts at the bottom. Black belts at the top," Worthington said. "One of the challenging things is understanding where that hierarchy begins and ends. As a white belt, I cannot tell the black belt they are teaching incorrectly, but I still reserve the right to be treated with respect as a person. Understanding where you have the right to push-back becomes a challenge."
Worthington argues that this is an important conversation. Our love for the sport can sometimes blind us to the seriousness of a situation. We fall into the trap of believing that a black belt in jiu-jitsu equates to a black in all aspects of life. With those blinders on, boundaries are not as easy to see, and that lack of clarity can be difficult to navigate for both sides.
"Historically, the people who are going to use anything in a negative way are not going to want people to think about other options," Worthington said. "It's important for people to be supported in making their own decisions about how they are going to use jiu-jitsu. I would hope it would be for the positive and for the greater good, but we have to be asking ourselves those questions."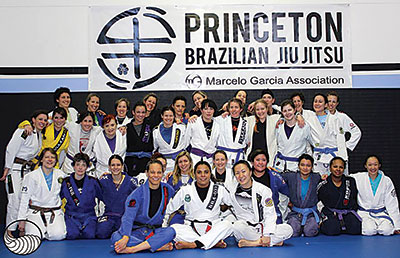 When I pressed Worthington about how jiu-jitsu could still be a force for good in light of the challenges we were discussing, she responded, "Someone once said to me, 'Jiu-jitsu made me a better person and it changed my life.' I said, 'No, jiu-jitsu is a mechanism that you used to change your own life. You embraced it in a positive way, in a way that you believe is consistent with your values and who you want to be.' Jiu-jitsu in and of itself is not good or bad inherently. It's as good or as bad as the people wielding it."
In the case of the female grappler I mentioned earlier, Worthington talked her through determining whether or not she was being a "wuss" or had a legitimate reason for questioning her training environment. When they had ruled out the possibility that she might need to toughen up (she certainly didn't), she tried training somewhere else. She found a training experience where she felt validated and respected as a person and removing herself from the negative environment helped her see the reality for what it was. From the outside, the answers seemed obvious, but from the inside, the distinction was not as easy to make.
For my part, Worthington helped me to reframe the way I think about jiu-jitsu. Jiu-jitsu as a tool can be a force for good, in the right hands and supported by the right people. Jiu-jitsu was a tool that I used to change my life, but ultimately I was the one wielding it. The jiu-jitsu community can be an open and welcoming place if we work to keep it that way, which means holding ourselves and our peers accountable for how we treat others. You are a part of that 'we,' which means that jiu-jitsu's future is in your hands as well.