Gender Roles in Jiu-Jitsu Valerie Worthington Talks Gender and Respect in Jiu-Jitsu
For many years I believed that jiu-jitsu was a force for good. I believed that jiu-jitsu had changed my life and I believed that the jiu-jitsu community was an open, welcoming place that accepted people from all walks of life.
Recently, I learned I was wrong about all of these things and Valerie Worthington helped me see that.
Valerie Worthington is a jiu-jitsu black belt and one of the principals behind the quickly growing Groundswell Grappling Concepts (GGC). With the likes of Worthington, Emily Kwok, Hannette Staack, and Lola Newsom at the helm, GGC is best known for running women's grappling camps, though recently they have begun to offer co-ed camps as well. For her part, Worthington humbly credits GGC's success to the work of her collaborators, but Worthington is a force in the sport in her own right. She has traveled the country to train with dozens of instructors, she runs a popular jiu-jitsu blog at Breaking Muscle and her individual seminars are in high-demand.
I met Worthington through my female training partners. They had become rabid GGC devotees and praised the experiences they had at GGC events. In these conversations, I learned that my home gym spoiled me into naivety. Not all gyms are as welcoming to women as ours is. In fact, many of the stories I heard were outright disturbing. Not long after I heard these stories, news began to break about a slew of high-ranking black belts that alleged everything from sexual misconduct to sexual violence against women, as well as children.
The stories continued to trickle out of the jiu-jitsu community to the point that I could no longer champion my idealized notion of jiu-jitsu. Our community was far from perfect, especially with regard to how we treat women.
When I spoke to Worthington about these issues, she recalled a story about a woman she had met through one of GGC's camps.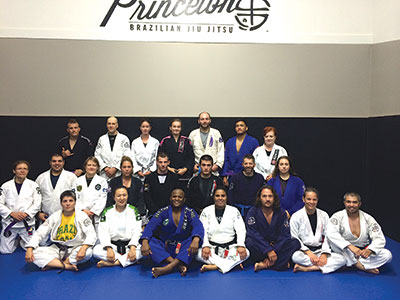 "Her training partners made an issue of her being a woman," Worthington said. "If someone was bigger than she was, training in a way that she thought was reckless or disdainful, they would say, 'That's what you signed up for. This isn't tiddlywinks.'"
The experience of feeling as though she was not respected, valued and cared about wore on this grappler. She was falling out of love with jiu-jitsu, and the stress that her situation caused her visibly affected her, Worthington says. Worthington attributes some of these situations to a basic misappropriation of gender expectations, but it goes deeper than that.
"At large, men are more congratulated and encouraged in expressing aggression, despite the fact that we are all human and have a tendency toward wanting to test and best ourselves," Worthington said. "There is a competitive streak inherent in people regardless of gender. There is also a self-preservation streak. Even though it sometimes comes out in different ways, they are a natural part of being a person."