It's no secret that most of the world's gis are made in Pakistan. Many factories churn out gis for various brands made to their client's specifications. Their clients are the companies that sell these gis under their brand name. Aside from some of the larger companies, these smaller brands will oftentimes have very little say on the actual processes put in place during the manufacturing. Habrok is a company that launched in the United States just last year; however, the owner Sal Sandal is an American whose family actually owns their own manufacturing facility in Pakistan. He's able to communicate better than anyone directly with his factory on the specific needs of jiu-jitsu athletes here in the States and abroad because of this direct connection. This month we're reviewing one of Habrok's most popular gis, the Tactica Leve. It's a lightweight gi designed for both training and competition. Let's check it out.
The Jacket
The Tactica Leve jacket is made from a 350 GSM pearl weave. One of the benefits of owning your own factory is being able to control some of the finer details, like the type of thread used to make the weave. The pearl weave on the Tactica Leve uses a thread that's thinner than most other gis. So, what this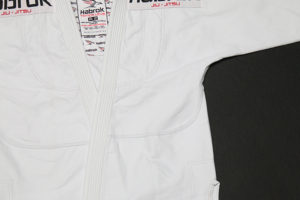 means is that to produce a full yard of material, less thread is used. The length might be the same, but the volume of material used is less. This results in a lighter, thinner feeling material. Another step in the production process used by Habrok is the heating process. Twice the material is essentially super heated and cooled to help pre-shrink the gi, that way the finished product that you get has very little shrink after you wash it. The jacket features many of the other notable features we've come to expect in a good gi, cooling material along the shoulders, triple-stitching in the seems, soft tape along the cuffs, reinforcement material in critical areas, and an EVA foam collar. In terms of style, the Tactica Leve has a relatively clean design with just two Habrok patches along the shoulders and a small patch at the end of the lapel.
The Pants
The pants on the Tactica Leve are 100% cotton ripstop material throughout. The sides that the drawstring exits are reinforced with additional material as are the knee pad areas. The gusset is nice and roomy without being baggy. The corded drawstring is held in place by four belt loops along the front edge.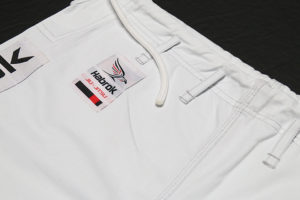 The Tactica Leve is only available in white and has contrast stitching. As with the jacket, all of the critical seams are triple-stitched for strength and durability. There are two Habrok brand patches, one on each side, that run vertically on the thigh. There's also a small patch on the right hip.
Fit and Feel
The A2 I tested would be described as "roomy". When comparing to other A2s I've tested, the Tactica Leve is slightly wider in the chest and a bit shorter in the sleeve length. No complaints here as I don't have very long arms, so the fit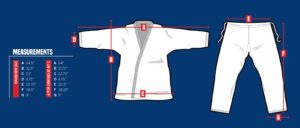 was really nice. Pant length and width was right in line with most other A2s I've tested. You can check all the measurements in the chart. After three
washes the shrink was very minimal. The jacket material has a light and soft feel to it. No hindrance in the cut of the pants either. I could do air squats for days or play some crazy open guard without worrying if my pants would rip or get in the way. The gi is available in six different sizes, A0 to A5, and a complete size chart can be found at their website.
Rolling In It
All the impressive stats or features don't mean a thing if a gi doesn't feel good when you're rolling in it. In my opinion the measure of a good gi is when you're rolling and it's not on your mind. That was the case with the Tactica Leve. Only once did was I reminded I was wearing a gi, but I'll get to that in a minute. I tested this gi during the month of December, and here in SoCal it was pretty hot this year. There were some 80 and 90 degree days. The lightness of this gi came in handy on those hot days. The collars are a little stiffer than most, but that's a good thing, since it makes it a little harder for your opponent to grab onto. The only time I was reminded about the gi was when I got caught with a lapel choke. My training partner had looped it around the back without me realizing. After further inspection I did notice that the color length on this gi is a bit longer than most. That's not excuse for poor defense, just be wary. Over all, the gi is a big two thumbs up.
Conclusion
It's tough to innovate these days in the gi market as there are a lot of good companies out there making good gis at a reasonable price. The Habrok Tactica Leve definitely falls into that category. Very good gi, lightweight, durable during testing, has all the basic features, and is priced at $139.90 on their website. This is the type of gi that over time could easily become our favorite. For a new company to come out with such a solid product out of the gate you'd think they've been doing this a while, and it turns out they have. That fact shows with the Tactica Leve.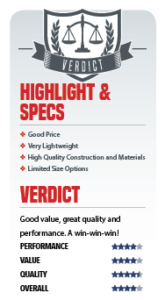 4 Questions with Habrok President Sal Sandal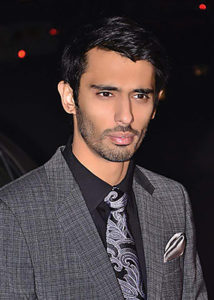 How long has Habrok
been making gis?
My great grandfather started manufacturing soccer balls for the British colonist in South Asia (present day Pakistan & India) and other sporting goods in early 1900's. Thanks to abundant cotton production, the textile industry has exploded in Pakistan over the last twenty or thirty years. Gi production has shifted away from China and Brazil to Pakistan, and our family was among the first to produce jiu-jitsu gis in Pakistan many years ago.
You had mentioned to me before, your story of coming to the United States. You mind sharing that with our readers?
I'm a firm believer that the American dream is still very much alive for those who are willing to bend down and grab it. If you can dream it, you can live it. I always believed in that. Habrok represents that dream, that passion, and ambition. When my family migrated here back in 1999, we had only $100 to our name and lived in a car garage with a family of five in California, two parents and two brothers. Habrok represents much more than a brand to me and my family. Growing up I always admired the successful brands like Nike and Adidas. The stories behind how they started are very inspiring. I am writing my own story now. Who knows? One day I hope you will interview some other entrepreneur who was inspired by our story.
Why did you decide to
launch a US operation?
Well, I spent all my childhood until the age of 17 in Pakistan. I grew up in the family of manufacturers of sporting goods. My father himself spent all his life, I think he started working in his dad's factory at the age of 14, learning the craft of the business. I used to spend my evenings and off days from school at his office learning and observing him in his factory. I always wondered growing up why or how come no one ever starts their own brand in other countries. When you grow up with all different brands being manufactured, you are somewhat infused and infatuated with them. So after spending over 18 years living in USA, I think it was about time to live my childhood dream and launch our own brand. I knew right there and then that if not now, then never. So, March of 2016 we started planning the roots of Habrok Inc. Finally, March of 2017 we launched our brand.
What are your plans and goals for Habrok moving forward?
Our goals is to keep serving the jiu-jitsu community with quality products and designs. We have some really cool stuff in the making that we are excited about in 2018. We started off as a jiu-jitsu brand, but we are planning to expand our scope to MMA and fitness apparel in coming years.