Mastering Weekly Meal Prep
Spanish Quinoa
This is Mike's personal recipe that he came up with by simply substituting quinoa for rice with his mom's family recipe.
1. In a medium shallow covered pan pour a 1 1/3 cups quinoa over a medium heat. Quickly add 2 Tbsp of olive or your favorite cooking oil. With a wooden spoon stir the quinoa constantly as it browns. It will brown quickly and burn even quicker if you're not careful.
2. Keeping track of the color notice as it darkens, as soon as you see that most of the quinoa has turned a shade darker from where you started reduce the heat to low and SLOWLY add a cup of water to the pan. Avoid hot oil splashing on you so pour water in carefully.
3. If you're not too concerned with sodium you can ad a cube of beef bullion at this point, but it's not necessary.
4. From here you're going to add an 8 oz can of tomato sauce. If you like spice go with a chili flavored sauce like "El Pato" or regular tomato sauce.
5. Now's the time to add your veggies, you can add a quarter of a chopped onion, some garlic, a whole chopped tomato are all good choices. If you don't have those items handy some chunky natural salsa is a good alternative.
6. Stir everything together and cover with a low heat. Check occasionally with stirring the bottom of the pan so nothing sticks.
7. Total cook time will be about 15 to 20 minutes covered. You'll know it's done when the quinoa has a nice fluffy texture.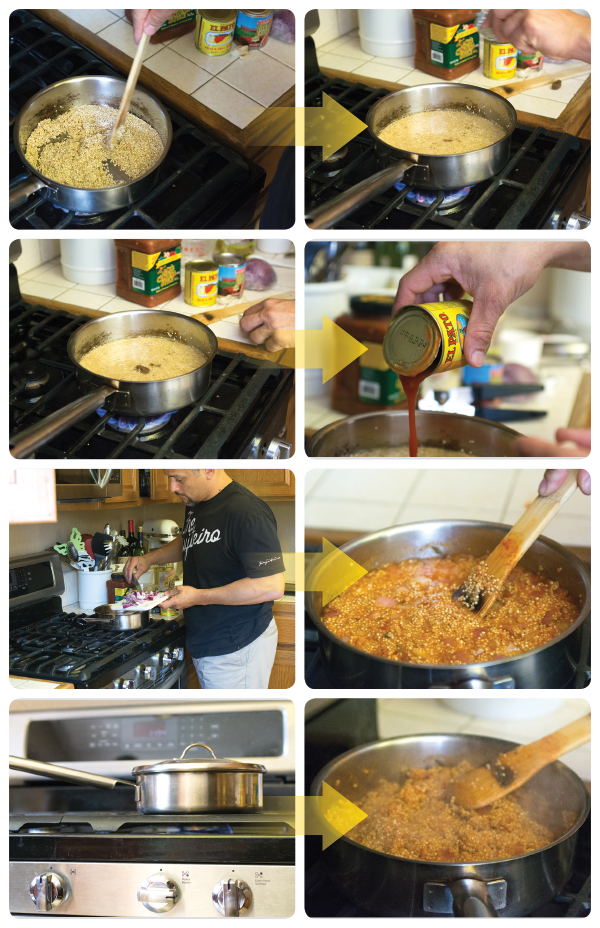 Steamed Asparagus
For this one we went steamed although you can also blanch your veggies. I like to do these fresh each day, however you can also cook in advance, just be careful not to over cook your veggies.
First wash then remove the stalks. Transfer to your steamer and let steam for between 4-5 minutes.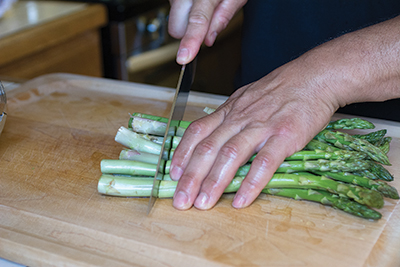 Don't let them over cook and go from a nice bright green to anything less vibrant. Color is key. Once you've got the right doneness remove from the heat so they stop cooking.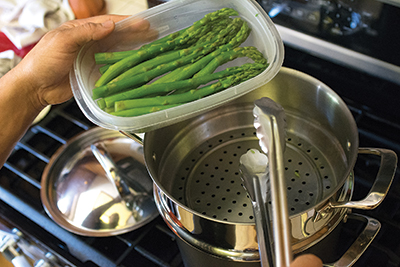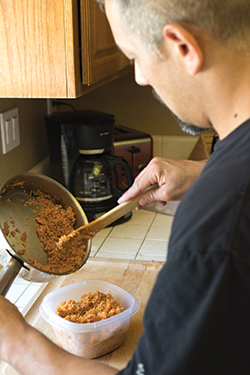 Plating
You have a couple options here, you can either store in bulk and prep each plate when it's time to eat, or you can plate single meals. Either works although I've found plating at once when you're not starving will make it easier to ensure that you're keeping your portion control in check. Use a small cooking scale to measure out your protein and quinoa if you're trying to restrict calories.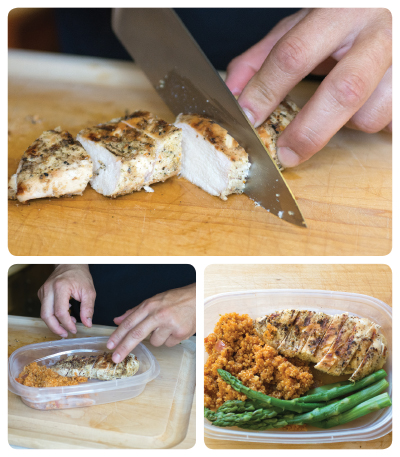 Conclusion
You are not limited to these ingredients or just to dinner. Once you get the hang of how to cook in batches, you will be tempted to prepare every meal this way and have a fridge of stacked containers ready to grab and go. When you are working in bulk, think about how not all foods will hold up very well, you do not want to cook salmon on Sunday for Wednesday. Just make a second trip to the grocery store on your way home Wednesday and get your salmon then and use it as a "finisher." Using this technique, you will find your nights will be a lot less stressful and a lot tastier. There are a ton of recipe ideas and food reviews on my site GrapplerGourmet.com that work well into this method. Use your head, don't over complicate things and ultimately, eat well, train hard. OSS.