Mastering Weekly Meal Prep
How Much?
When you are setting out your game plan for the week you should factor in how many meals you plan to make. Then take into account that you want to have roughly 1 cup of carbohydrates, 8 oz of protein and 1-2 cups of vegetables in each meal. With that knowledge, we know that we need to cook at least 5 cups of carbohydrates, 2 ½ lbs of protein and 5-10 cups of vegetables. These numbers seem confusing at first, but a good trick is to lay out your containers and place in the raw vegetables into each and get a feel for it. What do 5 cups of asparagus stalks look like? It looks like a small handful x5. Don't over complicate it. Let's look at a sample menu and grocery list for a week.
Tip: Quinoa and Brown Rice multiple in volume 4 times from dried to cooked. So 1 cup of dried of either will equal 4 cups cooked.
[row][double_paragraph]Meal Plan Idea
When I am working on batches of meals for the week I like to do three different meals two times a week. That means six total meals. I alternate them to keep from being bored or feeling like I am eating the same thing I had the night before.
[/double_paragraph][double_paragraph]Fresh or Frozen?
When you are cooking in batches you will find that it might even be easier to buy precooked frozen protein, such as grilled chicken breast or steak strips. These are perfectly fine to use and reheat well in the to-go containers with asparagus.[/double_paragraph] [/row]
This is the part of the article where I'd typically give you a recipe or two to follow thanks to my vast culinary background. However, since Mike is out in California and he's the one creating the photos for this article he thought he'd show you one of his favorite menu's for batch cooking.
Grocery List
2 lbs Chicken Breast
1 package (only need 1 1/3 cups) Quinoa, uncooked
1 large bunch Asparagus
1 8 oz. can tomato sauce
1 small tomato
1 small onion
1 clove garlic
Olive oil
No sodium seasoning
Grilled Chicken
How many meals you want to cook will determine how much chicken you want to prepare. For this example I prepared 2 lbs of fresh chicken breast.
Prepare the chicken by removing any of the fat or parts that don't look very appetizing.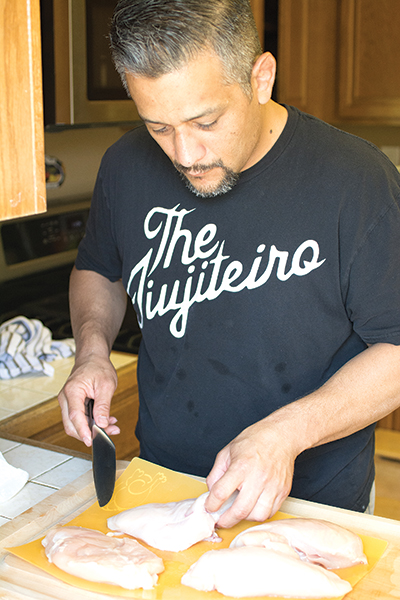 Next season, I like Ms Dash. She comes in a variety of flavors, has almost no sodium or other questionable ingredients. Season depending on taste.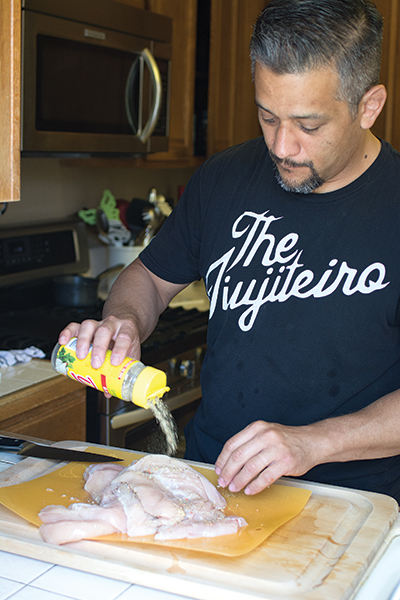 Transfer the chicken over to a medium grill and cook covered for 5-6 minutes per side. As you see the edges turn white on the first side then you know it's ready to flip. Don't over cook your chicken or it will get dry and won't be very tender.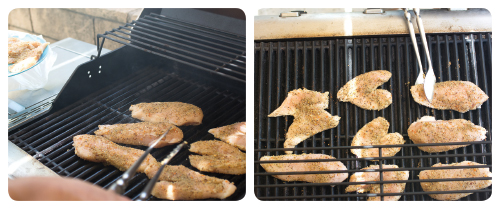 Once removed from the grill don't cut right away, give it a few minutes to cool down and let the juices lock in.