Mastering Weekly Meal Prep
Wouldn't it be nice to always come home to a fridge full of prepared meals? Imagine coming home from training knowing you have food ready that is nutritionally on point for you. It is as simple as grabbing a box out of the fridge, slapping it in a pan, oven or microwave and adding a little sauce and presto, you're munching away on dinner in less time than it takes to key-lock a body builder. You'd never have to grumble, "Damn, I still have to cook dinner?" or "What am I going to have for lunch?" after your training session. I bet you're thinking, "Yea, that would be nice, but I do not have a personal chef or nutritionist at my beck and call." Well, news flash, if you take 1-2 hours out of your week, you can become your own personal chef by mastering the art of batch cooking for the week.
What is Batch Cooking?
In theory, you are preparing your food for the entire week at once. You will essentially be cooking your meals to about 95% completion so when it's meal-time, you have minimal steps to finish the meal out before it is ready to chow down on. You will be saving yourself a ton of time and will be benefiting from having a consistent meal source that is controlled nutritionally. And, you are not eating junk in a pinch because it was easy and you did not feel like cooking. If you factor in the time we waste thinking, "What's for dinner?" while roaming food aisles or our cupboards trying to come up with something; eliminating that alone will pay dividends in the long run.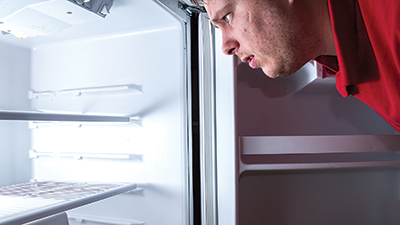 The Benefits
Time is valuable. By spending a few hours, one or two days a week cooking, you will save a lot of time throughout the week by not having to cook a meal each day from scratch. Not to mention saving lots of money also.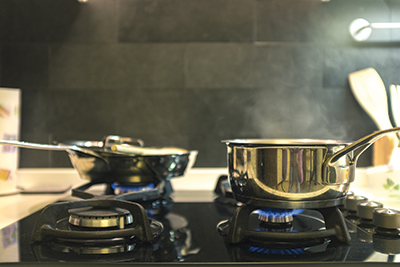 Do you have a hard time staying on a diet? Well, if you prepare all of your meals in advance, you can ensure you stay on track by making them fit the mold of the diet.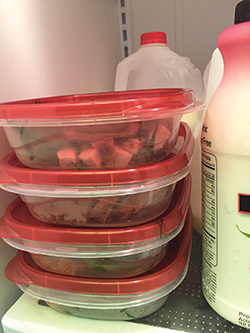 Cooking in batches/bulk means you will be buying in bulk and did you know that most grocery stores are not evil and actually reward those who buy in bulk by giving a discount? Don't be scared of a higher grocery bill to start, instead think of all the money you'll save being able to buy in bulk.
This type of cooking is fully customizable; think of batch cooked ingredients like Lego blocks, and each meal is your badass spaceship, available to make exactly how YOU want it to be.
It is fun and rewarding. Call me crazy, but nothing is more satisfying than sitting back and looking at a fully stocked fridge of meals perfectly organized. For the more sane people, the process is rewarding because you will find yourself surprised that you accomplished so much in such a little bit of time. Then the next thing you know, every week you'll be looking forward to your batch cooking day.
Target Acquired
When we are thinking about cooking in bulk, we need to ask ourselves a few questions. The primary being, "What meal do we struggle with the most?" For the majority, we can happily eat the same breakfast every day and have a solid lunch option at work. That leaves us with the major mealtime that everyone struggles with, dinner. This is because we are tired, worn out, hungry and already gearing up for the following day as we are nearing dinnertime. The last thing we want to do is wind down just to roll up our sleeves and start laboring over the stove for an hour just to eat in a matter of minutes before going to bed.
We will start batch cooking the same way we started our journey into jiu-jitsu, in small steps. We will master one meal time, and then before you know it, you will be able to have every meal plan covered and be left with a well-fueled body and spare time on your hands to train.