Working The 50-50 Guard With Felipe Costa
50-50 is a controversial position; some people love it, some people hate it. As a BJJ competitor and coach, I prefer to leave the emotions out of it and make sure I understand the techniques. By having a good understanding of it, I can choose whether to apply it in my game or not and if I face someone who loves doing it, I know what to expect and how to defend it.
If I face someone who is clueless about the 50-50 (maybe because they choose to adopt the "I hate it, I don't need it" attitude), it usually means I will play with that person and make the 50-50 look like it's 100% in my favor. If it happens that I face an opponent who is also familiar with it, then it means the little details may make the difference between winning and losing.
It's a mistake to think the 50-50 is made just for stalling because it's not. What happens is that when two fighters have a similar knowledge about it, it becomes very hard to progress, as the position allows both sides to use the same principles.
Dominating The Position
First, it is important to understand what you should look for once you are in the 50-50 position. This understanding will give you a better chance of progressing. Check out these fundamental details:[row][double_paragraph]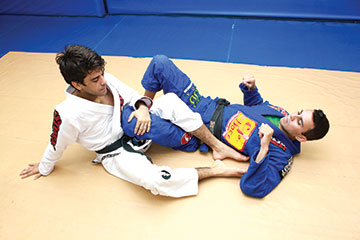 1. Make sure your left hand controls your opponent's knee. This way it isn't as easy for him to step out of the 'trap.' Also, turn to face the outside (toward the free leg).[/double_paragraph][double_paragraph]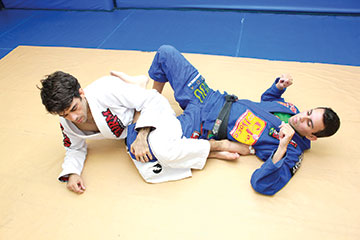 2. Squeeze your legs together for extra control. Face completely to your right so he has no chance to reset the position.
[/double_paragraph] [/row]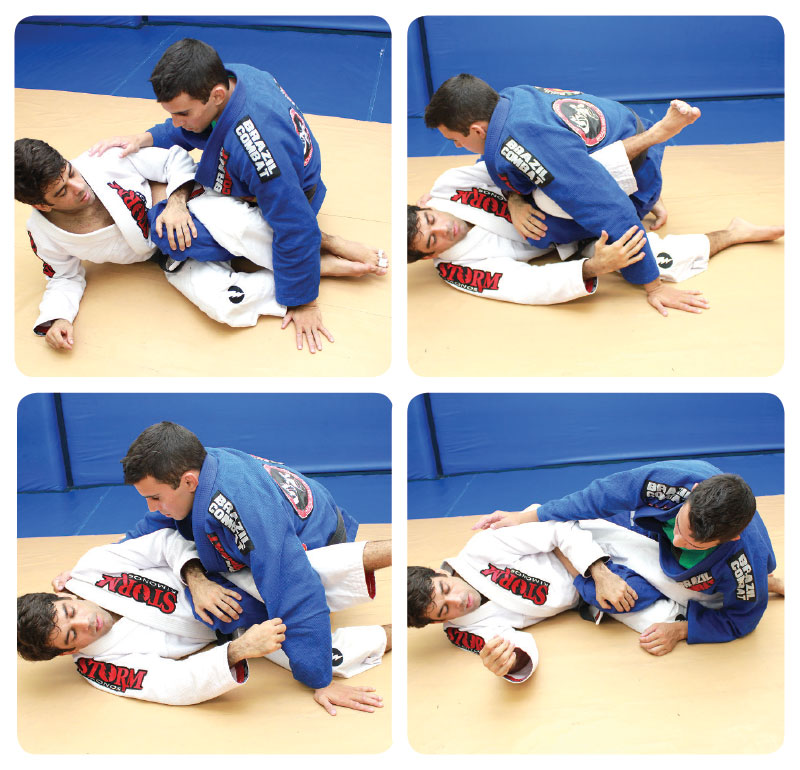 3. If you did everything correctly up to this point it will be difficult for him to come on top, but if he does, just kick your left leg parallel to the ground, pushing him back. This way your weight will press on his hip and render it impossible for him to establish top position.

4. Use the motion of putting your opponent's behind back on the ground to bring yourself up, make sure to use the movement just like a technical stand up drill. It's important to open your right knee at an angle to get a better base and avoid your opponent turning to his right to take your balance away, just as you did with him.