Rhalan Gracie – Pushing Through
[This excerpt was taken from Issue 40]
Challenges are a part of life. Everyday we're faced with challenges, some so small they might just feel like routine. But other times, challenges hit us so hard that we might question ourselves on how and if we'll ever overcome them. Right now, I'm thinking to myself, "how am I going to convey to you what I need to in this story while paying the subject, and the people, the respect they so rightfully deserve?" I'll be honest, at this exact moment staring into the screen on my laptop, I don't know that I will. So with that, I will do my best. The subject is Rhalan Gracie. You may not know who Rhalan is. There are lots of people worthy of being on the cover of the magazine, or even having their story told. When we make the decision of who we put on the cover of the magazine, there are lot of factors that go into consideration. High up on the list is "who's going to sell the most magazines while staying true to our mission?" It's a business of course. If you don't pick up the magazine and walk it over to the checkout counter, then eventually we're out of business. Another factor is who deserves it, usually this has to do with competition wins, or who contributions to the jiu-jitsu community. A couple of years ago, Rhalan has had to endure some of the most difficult challenges of his life, both physical and emotional. Despite these difficult times, his spirit is resolute on overcoming them and realizing that better days are ahead. Some injuries never completely heal but with the drive and desire to persevere, Rhalan is proving that he has the heart and soul of a champion.
About Rhalan
Rhalan Gracie, pronounced "hollan" like the country but without the "d", is the son of Relson Gracie and grandson of Helio Gracie.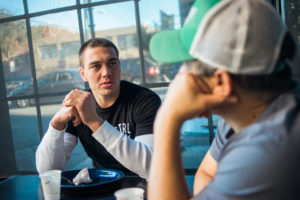 Relson is the second oldest son of Helio and one of the few living red belts in jiu-jitsu today. To say that Rhalan has strong roots is an understatement. Rhalan is 28 years old and received his Black Belt in 2011 from his father while teaching under him in Hawaii. Rhalan was born in Carmel, California, but as a young kid, his parents divorced. Being exposed to jiu-jitsu early as a kid, he didn't really take it seriously until he was about 13. Growing up, Rhalan moved around a lot. He spent time growing up in California, Florida, Iceland, and Brazil. Living two years in Iceland, he managed to pick up the language. So if you ever need an English to Portuguese to Danish translation, then he's your man. When Rhalan finally settled in Hawaii, he was able to devote the time needed to jiu-jitsu to become a championship caliber athlete.  In 2013, he decided to make his own path. So he spoke to his cousin, Ralph Gracie, about coming to train and teach with him back near his birthplace, the Bay Area. Ralph Gracie Jiu-Jitsu is home to head instructor Kurt Osiander along with a hungry crew of up and coming jiu-jitsu fighters. Rhalan Gracie doesn't have a whole lot of big wins under his belt just yet, but Rhalan's managed to make waves in the competitive ranks winning silver at the Worlds at brown belt, and most recently winning Black Belt Medium/Heavy at the American Nationals.
Heartbreak and Strength
Not long after moving back to the Bay Area, it was one fateful morning when a young woman named Connie Tai caught his eye. Being a pretty straightforward guy and not one to beat around the bush, he decided to sit directly across from Connie at a Chipotle where they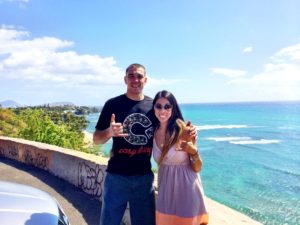 were both enjoying lunch. After making direct eye contact quite a few times, Connie finished her lunch and left. Feeling a little dejected, Rhalan finished up lunch, until he felt a tap on his shoulder. It was Connie giving him her number. The two ended up starting a romance that's usually reserved for a big screen romance. Connie took an immediate liking to jiu-jitsu, would train regularly with Rhalan, even when he wasn't around, and would accompany him at all of his tournaments. If you happen to watch any of Rhalan's matches on YouTube over the years, that voice cheering the loudest is no doubt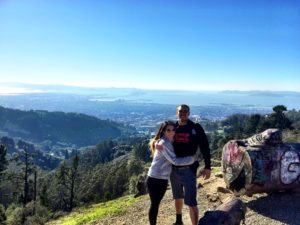 Connie's. In April of 2015, Connie began complaining of some side pain and ended up in the hospital for an appendectomy. The routine procedure had apparently gone as planned and she was released to go back to the home where she and Rhalan shared. A few days went by and Rhalan told us that something didn't seem right. A few calls to the doctor and they reassured him that things were okay. That was until Connie told him that she was not well. Connie ended up being rushed to the hospital by ambulance. The doctor told Rhalan that had he not gotten her in when he did, she would not have made it. At that point, it was apparent that the situation was serious. And although it seemed as if things were under control, Connie passed shortly after returning to the hospital. The passing of Connie was a shock to Rhalan and everyone that knew her. Rhalan expressed to us that Connie was the one he had planned on spending his entire life with. A few days later, Rhalan discovered the words "Connie Gracie" written a few different ways on the back of a receipt. It was the first time he had ever seen that slip of paper and it was clear that Connie's feeling about Rhalan were mutual.
Despite the devastating loss of someone so close to him on so many levels, Rhalan found solace in jiu-jitsu; it helped to keep him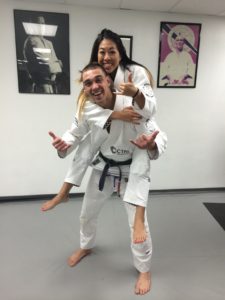 centered and present. Such a loss can have a devastating impact on the people left behind. Rhalan credits jiu-jitsu with helping him get through this time in his life, without looking for other escapes such as drinking or drugs that on their own can have dire consequences.  I asked Rhalan what picks him up when depression starts to set in andwhat keeps him going. His reply was, "I guess what keeps me fighting is when you work so hard for something, it's really hard to just let go. I put a lot of time and years and invested a lot in jiu-jitsu. The more obstacles, the more life puts in the way, the fact that I've already overcame so many things motivates me to keep going. Especially after this last life experience. I can't give up."
Down But Not Out
Emotional injury can be devastating and so can physical injury. Near the end of the finals match at the American Nationals this pastJuly, Rhalan got caught in a pretty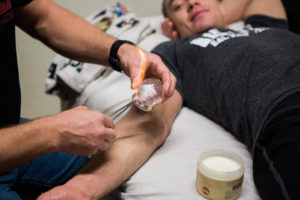 good armbar by fellow Black Belt, Brian Beaury. The angle was a bit awkward, but Brian went for it and despite the pain, Rhalan refused to tap. If you watch the video, you'll see around the seven-minute mark that Rhalan's right arm goes in a direction it shouldn't. He ended up winning the match on points but the injury required complete reconstructive surgery of the elbow. When we met up with Rhalan, he was undergoing treatment with Albert Salopek, who's been an injury consultant with theOakland Raiders for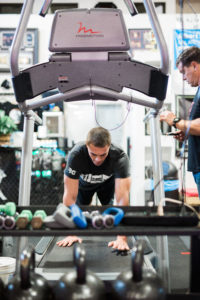 the past fifteen years. At this point, it's been incremental improvement for Rhalan, taking it one day at a time.He's been given the go ahead to spar in February by his doctors. Until then, it's just teaching, drilling, and physical therapy. Rhalan's next goal on the horizon is to medal this year at the Pan Ams. Other medals he'd like to add to the collection would be an ADCC win and a World Championship. Having gone through so many challenges as of late, I asked Rhalan what would his best advice be to anyone else facing a great challenge right now- whether it be emotional or physical. "I believe your best moments come after difficulties, no matter how hard life hits you in the face. If you really love and believe in what you do, you can't let anything phase you. You have to pushthrough and you have to keep fighting. You will run into obstacles: money, relationships, injuries, getting beat up – just keep pushing and break through that wall and you will get there."