Rigan Machado: Looking to Change the Jiu-Jitsu Landscape Forever
When did you open the Academy of Beverly Hills?
The Academy of Beverly Hills opened 1-½ years ago. I always wanted to do VIP training. I met an investor named Cash from Dallas. He introduced me to Martin Wheeler from England who specializes in Systema (an ancient Russian martial art adapted for use in modern warfare by the Russian Special Operations and the Soviet spy network). I joked with him that I would only open an academy in Beverly Hills. He found a place. He wanted a 5 star academy – 1st class, private training, valet parking, celebrities welcome. My first student was Ashton Kutcher. Word got around and now I have over 100 people at the academy. I'm very selective about who joins my academy. They are all good people, no bad apples.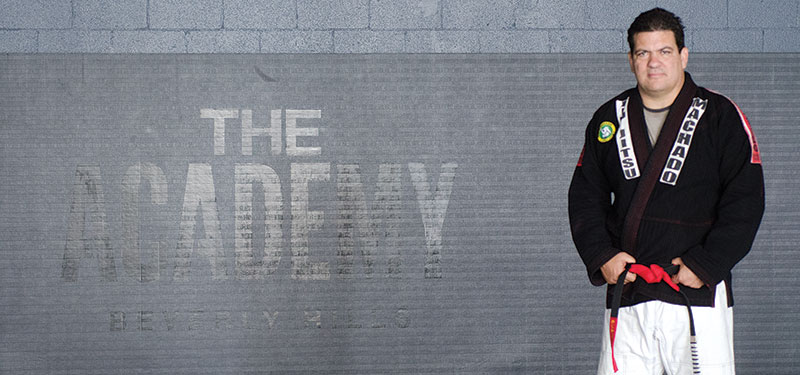 You seem to have built good relationships with a variety of celebrities.
Yes. I've built good relationships with Vin Diesel, Ashton Kutcher, and Michael Jai White. I created a new jiu-jitsu system for people who can't get hurt. It's technical training. They learn jiu-jitsu and technically train, but it's all safe. I created a type of jiu-jitsu for the Beverly Hills clientele. Competition, sparring… these guys can't do that. I can't even take a 1% chance of them getting hurt. I have 18 celebrities doing this program. Some guys have to sign disclosure agreements; others like Ashton Kutcher and Mickey Rourke come in regularly, while Usher comes in once in a while and Vin Diesel when he's in town…I train Ziggy Marley.
Can you describe this injury-free jiu-jitsu for me?
I created Flow Jiu-Jitsu. It took me 9 years to put it together. I have over 700 techniques and drills for people to train without injury. It takes 6 to 7 years to master. I will do this in LA and NY only – for those who can't get injured because they're in the entertainment field. It's a thinking philosophy and methodology. There is so much work and study involved in it. It was so hard to figure out all the details, but I'm happy I did it because it's been very successful.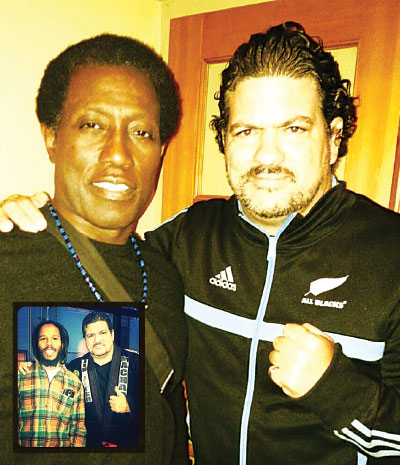 Do you have plans to open more schools in the future?
Yes. I'm thinking about opening a couple other schools in LA, New York and in Europe. Very high-end academies. I have the best designer and my partner is from Spain for this one. I'm thinking of opening the first in New York, then Zurich and then London. These won't be just jiu-jitsu. There will be a specialized yoga program, nutrition services, medical treatments, and jiu-jitsu. I want to help people become better through meditation…body, mind and spirit. These are going to be exclusive clubs for high-class clientele. I'm looking for the right locations. In New York we've been looking at a place on the East side in uptown Manhattan. It's 6-7,000 square feet. It's a dream opportunity for me. The Beverly Hills environment is so friendly and cozy… it's such a stress-free place. Before Beverly Hills, I was training some of the top athletes in the world with my brothers. I wanted to reach a different clientele. Now I'm hooked!
Tell me about your entertainment career.
I'm meeting with three CAA (Creative Artists Agnecy) agents to talk to them about a TV show – a reality TV show about me and all my brothers and family. I'm also involved in martial arts through the film industry in other ways. I recently produced my first movie – Paranormal Activity Security Squad. I play a hunchback monster. It's a horror/comedy. I put it together from beginning to end. It's coming out soon. I love the fun of movies.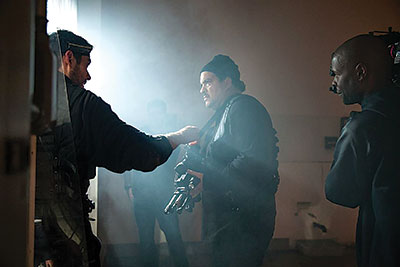 You just pulled off your first World Jiu-Jitsu League tournament. I know you were happy with the results. How did this event come about and what are your plans for it?
The World Jiu-Jitsu League is a new organization that took me 9 years to put together. I helped Master Carlos with the IBJJF in the beginning and I always thought I would like to create my own. I kept thinking about how it would be different and what the goal for this organization would be. I wanted something very organized, for kids, adults, seniors, and women. I wanted to put the same philosophy, thinking and passion I have for my academy behind this organization. So, I got a dream team together and we created The World Jiu-Jitsu League. The ultimate strategy is to push the sport to a higher level: TV. I will support Rickson in his new organization with anything he does. I love what he's doing. I'm not doing a federation. I'm doing a private federation. The rules are a 180 change. There's a higher point system, penalties for stalling, and you can't hold a fight. There's no counting; you have to let go or lose points. There's no stalling. We need a lot of action for TV. We're starting with an amateur version to see/learn/test the rules and the organization and to create a rank system. The black belts will earn money. And then we will have a professional league that will be showcased around the world. The athletes will accumulate points as they travel from tournament to tournament. This is my dream come true. I have money behind it – sponsors, waiting and watching us grow. We're taking baby steps to get to the highest level, to ensure we're doing everything right. We already have the relationships with the TV contacts. We want to be ready when the time comes to take the plunge to the big screen.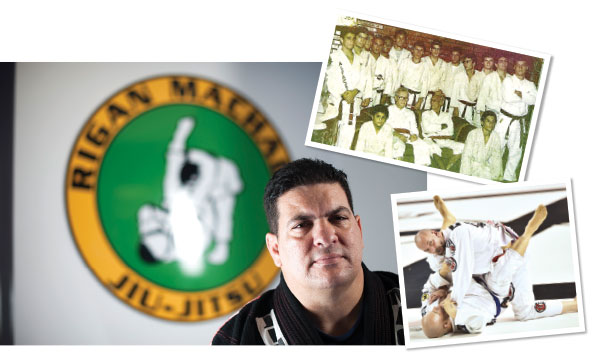 Anything else you want to add?
Yes, I love what I do. I will feel like a student for the rest of my life. I love jiu-jitsu. I don't ever want to think of myself as a black belt. I'm a white belt at heart. I love to learn. My passion in life is to see others happy through jiu-jitsu; my brothers and my cousins – our relationship – what jiu-jitsu did for me… it made me a better person. I try to duplicate that in different ways for different people. Jiu-jitsu changes lives. That's my mission. I'm an instructor. I teach techniques, but when I help someone be a better person, that's where I feel success.
Spending the day with Rigan, I can assure you – this guy is a mover and a shaker. I met him up in Hollywood and the entire time I was with him, he was schmoozing, negotiating, networking, and making things happen. He is constantly on his phone, making deals, creating opportunities and pushing jiu-jitsu forward. He is on a mission to take jiu-jitsu to the next level! Based on his energy level, his passion for the art and his abundance of investor, celebrity and other powerful connections, I don't doubt for a minute that he will be able to accomplish all that he seeks to achieve. Good luck, Rigan and let us know how it all turns out!