Edwin Najmi: "Never be satisfied. Add new weapons to your game or you'll be left behind."
It's safe to say that Edwin Najmi first stepped into the spotlight at the 2014 World championship. After finishing second in the featherweight division, he made his way to the purple belt open class final. His opponent would be medium-heavy champion Nicholas Meregali. With only  a few seconds into the match, Najmi awed the crowd at the Long Beach Pyramid with a flying triangle that left Meregali no other option than to tap. To this day, Najmi's move has been  played thousand of times and it is still shared on social media. It certainly boosted his way to Jiu-Jitsu notoriety.
Fast forward to 2016 and Najmi is now a black belt under his Professor Romulo Barral. He has been able to maintain the high level of performance and results prove it. He's now a Pan champion and a world championship silver medalist. In this exclusive interview, he talks about how's been this first full season as a black belt competitor and also his plans for the future.
Jiu-Jitsu Magazine: You are finishing up your first complete season competing as a black belt. How do you compare the experience to all the previous years competing in the lower rankings?
Edwin Najmi: I think it's all pretty similar. Takes you a while to get adjusted to the belt. Obviously there's a bigger gap in the skill level between the average black belt and the best guys. So getting the experience to be able to fight the legends of the sport is the hard part about competing at black belt. But besides that I'm having a blast, I haven't changed a thing about my game and I'm really having fun out there every single time I compete.
Your first world championship as a black belt was bittersweet. You had an awesome run to the lightweight final but ended up losing by submission to Lucas Lepri. What lessons did you take from that looking forward to the 2017 season?
Yeah, like I said before. I fought a lot already at black belt, but when I fought Lepri, I could feel his skill, experience, was on a another level than everyone else which is why he is the world champion. I feel like it was just too big of a moment for me too early on in my career. Like fighting for the UFC belt in your first fight in the UFC. But I learned a lot, it really lit a fire under me and I've improved so much since then and will be ready for the next time.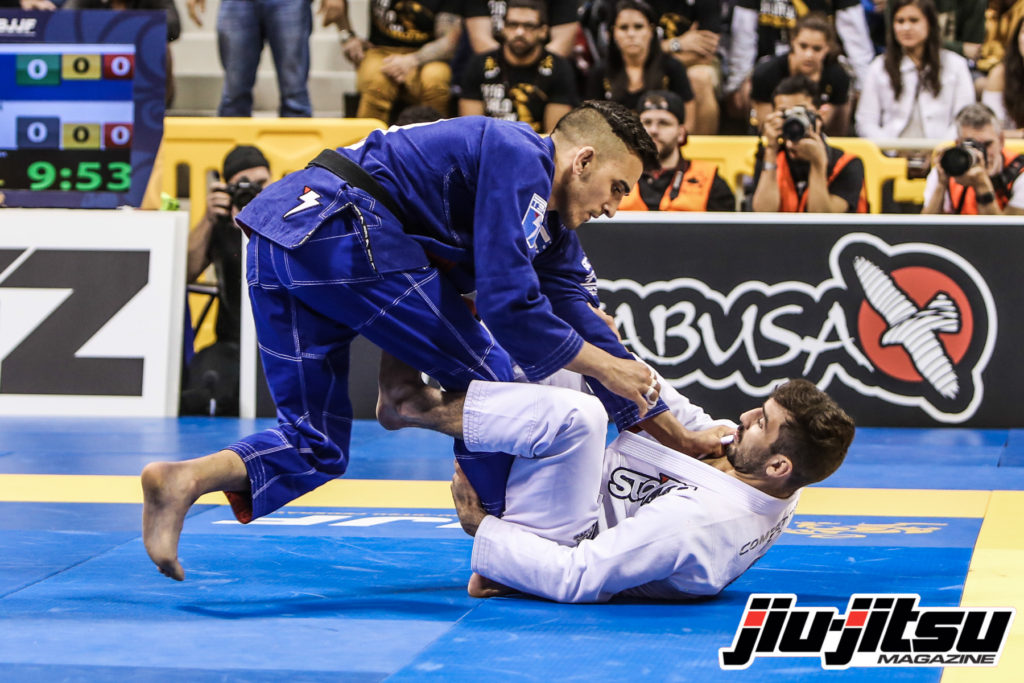 You came into the spotlight with your flying triangles. Now, you are recognized as one of the most unpredictable athletes out there. What's the secret to have such a wide array of techniques in your game and still maintain the effectiveness without losing focus?
Never be satisfied, don't try to force your game if it's not working. That's a big thing in Jiu-Jitsu and why people stop improving. Like everyone figured out my flying triangle, so I had to find a new move. They keep insisting on applying their game that they've been doing since blue belt and are comfortable with. But people figure out your moves, you need to always evolve and add new weapons to your game or you'll be left behind.