ICYMI: Rocha Kicks AJ Off Stage in Florida, Super Matches in Guatemala, Pan No-Gi, Croatia Pro
The weekend had it all for grappling fans. From a spartan kick, to great matches in New York, Guatemala and Croatia, there was action for all kinds of tastes all over the world. Here's a quick roundup in case you missed something.
Fight to Win Pro  14
In a highly anticipated showdown, bitter rivals AJ Agazarm and Vagner Rocha finally came face to face this Saturday, in Tampa, Florida. The match was expected to be a very heated affair after the two black belts exchanged a lot of trash talk leading up to it. And it was the case, indeed. As soon as the first seconds into the match, Rocha made a grip reach that looked like a cross punch. AJ walked away to protest and eventually turned his back on the opponent. That's when Rocha decided to kick AJ in the back, throwing the Gracie Barra black belt off the stage and into the crowd. Chaos ensued, as FTWP president Seth Daniels had to climb up the stage to calm down both fighters. Oddly enough, the fight did go on and eventually Rocha won by unanimous decision. This Monday, the event posted on Facebook that they have decided to change the result to a no-contest. Also in the aftermath, Rocha said that he taught AJ a lesson while Agazarm said his opponent is a disgrace to Jiu-Jitsu.
GT Open
In Central America, the 2016 GT Open gathered some of the best Jiu-Jitsu competitors today for a series of super matches and also two GP tournaments. In the super matches, results were: John Combs caught Richie Martinez with an armbar; Ana Carolina Vieira finished Luiza Monteiro with a katagatame; Geovanny Martinez caught Sergio Hernandez with a heel hook; Eduardo Milliori finished Dan Schon with a bow and arrow choke; Kim Terra caught Rafael Freitas with a bow and arrow choke; Osvaldo "Queixinho" Moizinho and Isaac Doederlein ended in a draw; Edwin Najmi finished Kevin Macheha with a straight ankle lock. In the GPs, Kevin Macheha came out on top of the lightweight bracket while Gustavo Batista was the heavyweight champion. Click here to know more.
2016 IBJJF Pan No-Gi
The Marcelo Garcia squad controlled the actions this Saturday, in New York. Dillon Danis and Jonathan Satava closed out the black belt open class division after winning their respective divisions, Danis the medium-heavy and Satava the lightweight. Other highlights were Gianni Grippo with another gold medal after beating Rodrigo Freitas in the lightweight final. In the female black belt division, Karen Antunes was the standout with double gold in the lightweight and the open class. In the teams competition, Alliance finished first in the male division with 113pts, followed by Unity Jiu-Jitsu (62pts) and Checkmat (24pts). Click here for the full results.
Croatia National Pro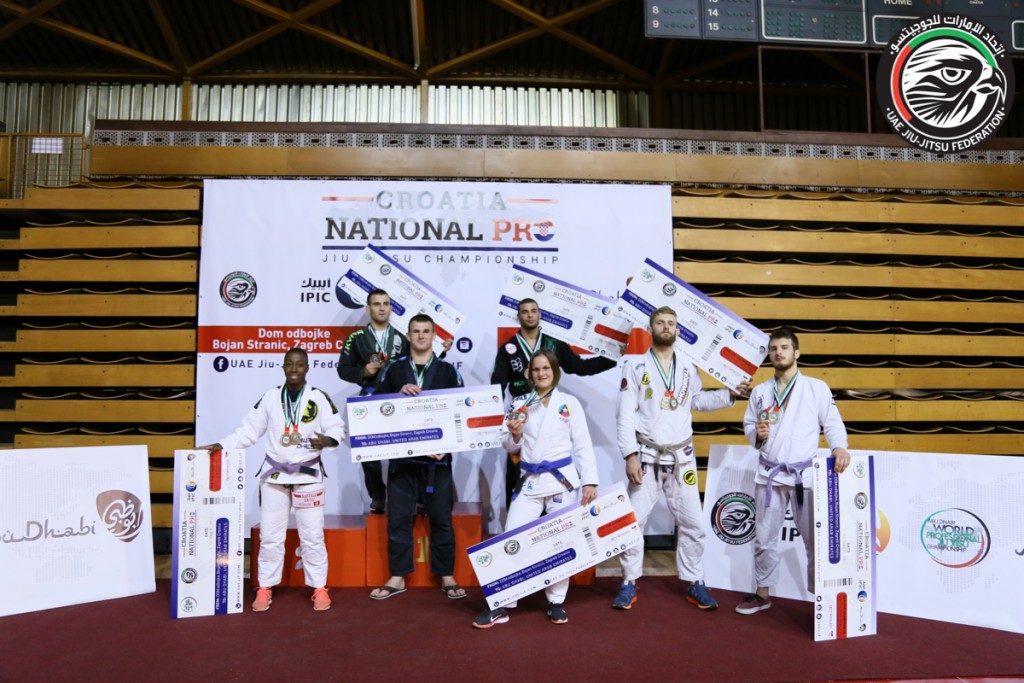 In Zagreb, also on Saturday, another event in the UAEJJF National Pro series gathered hundreds of Jiu-Jitsu competitors fighting for travel packages for the 2017 ADWPJJC. In the black belt division, winners were Makto Kvesic (-110kg); Antun Racic (-77kg). In the teams competition, Mladost – Alliance BD finished first with 126pts, followed by ZR Team Hungary (51pts) and Jiu-Jitsu Zadar-neves Team (38pts). Click here for the full results.