Rock-Jitsu: Jiu-jitsu Meets Heavy Metal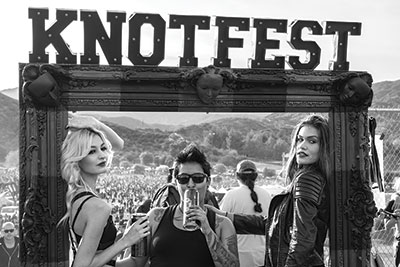 "Music, you know, true music, not just rock 'n' roll – it chooses you. It lives in your car, or alone, listening to your headphones – you know, with the vast, scenic bridges and angelic choirs in your brain." – Lester Bangs, Almost Famous
No matter what anyone tells you, rock stars…are not normal people. If they were, we wouldn't call them rock stars. What makes them so different? To find out, I took the red pill, visited Wonderland, and got a small taste of how deep the rabbit hole goes. This was the closest I will likely ever come to an Almost Famous experience, taking place at Knotfest, a heavy metal music carnival.
Driving up to the San Manuel Amphitheater for Knotfest, I really didn't know what to expect. I was familiar with metal music through bands like Metallica whose albums I listened to in high school, over 10 years ago. I felt like a polar bear in the desert, and very much out of my element. Fortunately, I was there to cover something we are all familiar with – jiu-jitsu. Amidst all the long hair, tattoos, and black clothing, I was still able to recognize the adidas Jiu-Jitsu pants worn by Billy Graziadei from the band Biohazard. Along with being the lead vocalist for the band, Billy holds a brown belt in Gracie Jiu-Jitsu and trains out of Gracie Academy in Torrance, CA. Billy was accompanied by Scott Viscomi, a long time student of the martial arts, heavy metal fan, and student of Clark Gracie. Among their ranks I also met Ty Gay and Patrick Nolan of Everybody Panic! Ty is a lead vocalist for the band and a Gracie Jiu-Jitsu Black Belt. Patrick, the gifted bass player from the same band, is just starting jiu-jitsu and going through the learning process we all go through as white belts.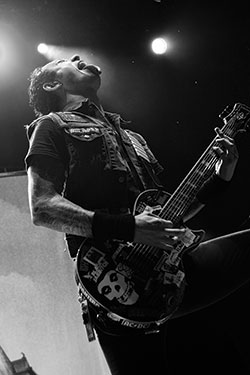 Billy, Scott, Ty, and Patrick were ready to get some training in backstage but we were waiting for one more to join the party. As we made our way to the back lot, we stopped by an RV. The same RV's you see on the highway and wonder, humm, I wonder if someone famous is in that thing? I was introduced to Matt Heafy, the guitarist and lead singer of Trivium. Matt's a Gracie Barra blue belt from Florida, who just so happened to be performing that same night. He likes to get some training in before the show. In the Trivium trailer there was some jiu-jitsu conversation any nerd of the sport would appreciate. In particular, I found their use of jiu-jitsu to supplement their music to be quite interesting. I'd heard similar conversations within the jiu-jitsu community, reminding me it doesn't matter if you flip burgers or play to a crowd of thousands, jiu-jitsu brings us all together.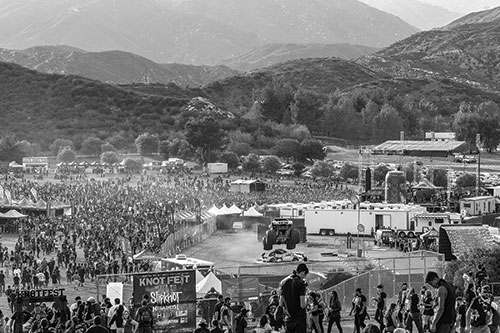 Shortly after some stimulating jiu-jitsu dialogue, we were ready to roll. It was a beautiful Southern California day and perfect for some outdoor grappling. In true jiu-jitsu fashion, Billy and Matt brought some mats with them that we were able to set up in a grassy area behind the main stage, close enough to hear the faint sound coming from the secondary stage where some performances were already going on. After some quick stretches, the day's training got underway.
Ty Gay, our resident Black Belt, exhibited a great X-Guard escape for us to try. It first involved breaking the grips your opponent has on your sleeves, regaining posture, and then following up by quickly stepping over your opponent's head to move into a side control position. He also demonstrated a couple variations to a familiar cross collar choke that emphasized using the blade of your hand, cutting the right angle, and utilizing a lifting hip motion. I felt right at home on the mats as we rolled and learned technique for an hour. I almost forgot I was in the back lot of a concert and in the company of rock stars, only to be reminded when we had a couple visitors.
Several people stopped by to see what the heck was going on. Some looked confused, others amazed, but all were interested enough to stop and ask. It seemed like many were familiar with grappling through watching wrestling at one point in their lives. To most, however, the concepts of jiu-jitsu were foreign. At one point during our training session, an interested man stopped by and Billy was polite enough to invite him onto the mat. The demonstration seemed to impress that fellow enough that a couple minutes later he showed up with his wife. Now, I'm no musician or actor, so the number of attractive women approaching me, willing to jump into the mounted position is next to none. For these guys, however, I could only imagine it being a more regular occurrence, making that voice in my head repeat, "Damn, maybe I should've been a rock star."
"it doesn't matter if you flip burgers, or play to a crowd of thousands, jiu-jitsu brings us all together."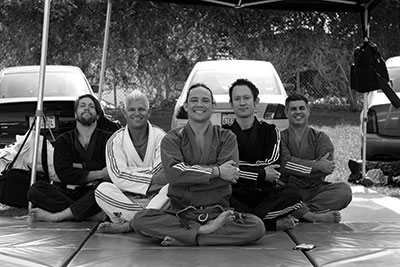 Like all time spent on the mat, a couple hours passed quickly and Matt had to leave to get ready for the show. We bowed out and put the mats away. After getting cleaned up, it was time to explore the venue. Knotfest stimulated all the senses. The smell of marijuana and the flavor of a $16 can of Heineken, I am all too familiar with. Visually, however, this dreamland was closer related to a scene out of Mad Max than the storybook tales Alice or Dorothy described, this a brand new experience for me. Heavy metal music played as monster trucks demolished cars, dirt bikes soared through the air, and even roller coasters hung suspended upside down. As the sun set to the west over the hilly landscape, the sea of heavy metal fans began moving to the main stage. I followed in suit and made my way to the pit area.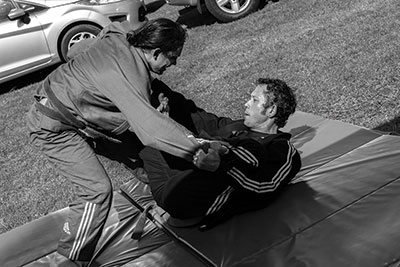 As I looked behind me I saw thousands of people. One girl right behind me held up a sign saying, "I only came here for Trivium" confirming to me I was, in fact, in the right place. As the lights dimmed, the crowd began to let out a humble roar, only to explode as Matt Heafy made his way center stage. It put a smile on my face and made me think, "Wow, is that the same guy I rolled with a couple hours ago?" With the single stroke of his guitar, he was able to command more respect and cheers than most will experience in their lifetime. The same way words can't explain what it's like to roll with Marcelo Garcia or Jean Jacques Machado, no words could really ever explain the feeling of being dead center stage of a Trivium performance. It's simply just something that you have to experience. It was at that point I realized that there is something special that sets rock stars and jiu-jitsu superstars apart from others.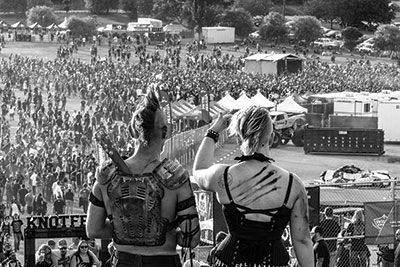 These are people who, above all else, follow their dreams. At one point in life we all have aspirations and dreams but so many of us choose a path of least resistance for fear of failing. These dreams, either through self-doubt or a manifestation of the reality around them, morphs dreams into delusions. Rock stars, instead, walk or better yet, sprint, dive, crawl, and live on the road less traveled. They're able to turn dreams into reality. The qualities needed to accomplish such a feat are admirable. Thus the reason why when people look for inspiration, they look to those on stage. They're the center of thoughts, envy, and desire for all who gaze upon them. They're rock stars.