Flow Kimonos Hemp Series Gi
Yes, this gi is 100% hemp. Hemp is generally associated with the cannabis plant, which is also known as marijuana. Hemp is actually a sibling plant to marijuana and contains no psychoactive properties. This is due to the fact it contains very miniscule amounts of THC, the active ingredient in marijuana. It is a surprise to most people that the plant possesses many amazing properties. It's very strong and durable, capable of even building automobiles. It grows faster than cotton, making it a more efficient crop for farmers to produce. Flow Kimonos has taken this versatile plant and did what any jiu-jitsu practitioner would do- no, not smoke it but make a gi out of it!
Flow advertises this gi as a luxury item that will create envy for all those that lay eyes on it. It's an eco-friendly gi with natural anti-microbial properties. With nine different cuts/sizes you'll be sure to find the one that fits you best.
The Jacket
It's made from 550 GSM of 100% hemp and uses a basket weave. This material is very breathable, more so than you might think. It's stitched very well with no visible flaws throughout the jacket. The stitching around the arms is great, which provides maximum mobility.
The jacket features little patchwork as most logos visible from the exterior are all embroidered. These embroidered logos can be found on each arm, the front lower lapel, and the upper back. The logos are minimal and don't distract but compliment the gi nicely. The black stitching and interior trim accent the "natural white" color (also available in Black or Navy) of the gi which provides some added flair.

The Pants
The pants pair great with the jacket. Like with the jacket, the stitching is done well, which really adds some style and highlights the natural white color. The knees are reinforced with some extra material for added comfort. You'll find some embroidery located on the lower part of the pants around the ankle. Flow has used high-density foam-filled drawcord for the pants. The cord is red but I would have personally liked to see the cord in the same green or black they've been using throughout the gi. It's possible that Flow wanted the drawcord to stand out or for some practical production reason. With the jacket on, however, little attention will be drawn to the drawcord. This cord does work great and I would even be willing to purchase it separately to use with other gis I own… more on that later.
Fit and Feel
I'm 5'9" and 170lbs. The sizing chart on Flow's website suggests an A2 and it's right on the money. The sleeve length is exactly where I like it to be and the lapels overlap perfectly without any restriction of motion. The arms and shoulder in particular are cut really well, as I mentioned earlier. The pants fit great, but were a bit baggier than I would prefer. I do personally favor a tighter cut but others may enjoy the fit. The new collar is a bit stiff  but after a couple washes, I barely noticed it. If this is the first time you're wearing a hemp gi, or first time wearing hemp in general, the material will feel foreign. It will take some getting used to but will begin to feel more natural as you continue to wear it.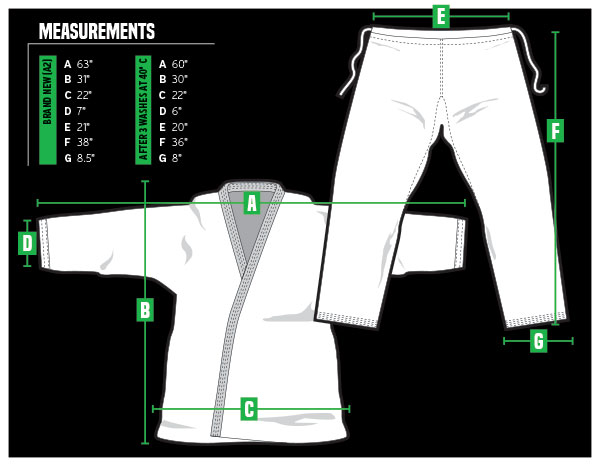 Rolling In It
I have to admit, I was pretty surprised at how much I enjoyed rolling in this gi. The gi's texture may give you the initial impression that it would be uncomfortable but it's actually not bad. With a rash guard, you won't notice any difference in the jacket. Without one, it may feel a bit rougher but once you start getting a sweat going, the difference between the hemp gi and cotton is negligible. The pants are quite comfortable. The drawstring on these pants simply steal the show. It seems like such a small detail but it makes a difference. I generally have to retie my pants and adjust my entire gi with every roll. With these pants, I didn't have to retie them once. The cord is soft and squishy, which makes it very comfortable.
Hemp Q&A
How is Hemp Turned into Fabric?
After hemp is harvested and treated, there is a mechanical process called "breaking." This process passes the hemp between fluted rollers to break it apart. A process called "scotching" separates the fiber for production.
Why Would I Want a Gi Made of Hemp?
On the mats, your gi is sometimes the only barrier between you and whatever germs are on there. Hemp doesn't allow bacteria, such as staph and ringworm, to survive. It's also naturally antimicrobial and anti-odor. The material also wicks away moisture from the body and dries relatively quickly.
Why Aren't All Gis Made of Hemp?
There are several long-winded reasons why hemp in general is not used in the production of more clothing. Listening to the Joe Rogan Experience will inform you of all of them. Hemp has a stigma attached with it in the United States and other countries because of its association with marijuana. It's kind of like being the younger sibling of an ex-con. It's difficult to source hemp in the United States and it's more regulated than cotton, so companies are less willing to work with it.
Do I Have to Treat a Hemp Gi Any Differently From a Cotton Gi?
Cold wash and hang dry like you would a cotton gi. It's also a good idea to use an eco friendly detergent. Make sure to check with the gi's manufacturer for exact care instructions. Flow Kimonos has a good blog on how to care for your hemp gi on their website:
flowkimonos.com/blogs/news/17497880-how-to-care-for-your-hemp-gi
Are Hemp Gis Legal in Competition?
The official IBJJF rules on gi fabric state, "Gis should be tailored using cotton or cotton-like fabric only." Hemp is a cotton substitute so you should be okay. Hemp gis, however, may not always be a typical white color and IBJJF requires your gi to be white, royal blue, or black. Some hemp gis may be a natural or off-white color (like a very light brown/yellow). Make sure the patchwork and embroidery of the hemp gi you purchase is also within the rules of IBJJF.
Verdict
Great cut, great material!
Performance    4
Value    3.5
Quality    5
Overall   4.5
Highlight & Specs
• 100% hemp, 4x stronger than cotton
• Natural antimicrobial and anti-odor properties
• Amazing draw cord
• Great cut and fits well
Conclusion
This is a great gi. The hemp fabric provides some unique qualities such as improved durability and natural resistance to bacteria. I really enjoyed the fit of the jacket. It hugged my body in all the right places but still allowed me to retain my mobility. Not to reiterate myself, but the draw cord on these pants are amazing and really a highlight of the entire gi. The gi however does come at a $200 price tag. It is hemp and one can argue that with the durability of this gi, it will outlast other gis in your armory. If you're willing to pay the premium for this gi, you won't be disappointed. I'm glad to see Flow Kimonos produce the eco friendly hemp gi and look forward to rolling with this gi for years to come.