The Best Show in Town: Eddie Bravo Invitational 4
The Eddie Bravo Invitational was held this past weekend at The Orpheum Theater in Los Angeles. It attracted grappling fans to behold the 4th reincarnation of Eddie Bravo's grappling imagination. This is the first EBI I attended in person. The live experience at the theater is amazing. It's not your typical grappling event and EBI has created something special.
No-gi jiu-jitsu has developed its own subculture of jiu-jitsu and it's growing quickly. This subculture has a different vibe to it, and its members move to the beat of a different drum. It's very reminiscent of the Rock and Roll crowed emerging and developing out of Jazz and Blues. Going to EBI is actually a lot like going to a rock concert more than a jiu-jitsu competition.
The theater lights dim, and the music comes on. I looked around, and thought to myself, "okay, this is going to be different."
Behind the curtain there was Budo Videos as always working their broadcasting magic. Going down one level was the warm up area. They put a mat down in what looked like a converted room of some kind. Since it's a theater I could only image it was used for storage of some kind, rehearsal area, or makeup. It wasn't large and people got cozy. All the competitors, their coaches, some training partners, the EBI crew, and media like myself.
I ran into some familiar faces including Joao Miyao, he seemed calm and focused as usual. I saw Baret Yoshida playing with a toy I later found out to be called Kendama.
The fights were fast pace and action packed. The submission only rules of EBI work great to get athletes to go for submission. Eddie "Wolverine" Cummings took home top honors along with $20,000. I think the Women's Superfights stole the show however, being some of the best matches of the night.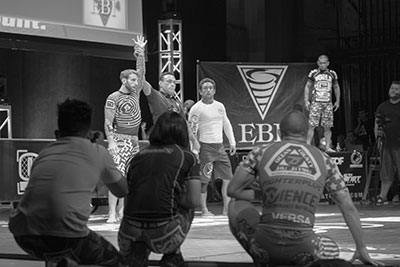 EBI was the most fun I've had at a grappling event. The alcohol served may have had something to do with that, but it doesn't take away from the experience. The environment, the engagement of the crowed, and the theatrics of fast pace submission grappling get your heart pumping. Eddie Bravo has created something special viewers will appreciate.