Eddie Bravo's Electric Chair: Electric Chair Submission
2. Next, Eddie re-grips his hands, this time with a Gable or S-Grip making sure that his forearm and/or elbow are just above Calvin's knee. Too far up and it might not get the finish, too low and Calvin might escape his leg.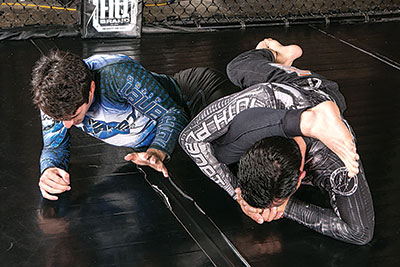 3. Finally, to finish, Eddie collapses his chest forward; while at the same time stretches his lockdown out. Unless the person in the chair is extremely flexible and able to do the splits, Eddie's going to get the finish. If not, he can go for the sweep.