Eddie Bravo Getting To Electric Chair
Getting to Electric Chair
From Electric Underhooks, Eddie wants to move quickly he's either going to Dog Fight (take the back) or go for the Electric Chair. Where to go depends on what his opponent is defending. Whatever he defends, Eddie goes with the opposite.
1. So, Calvin doesn't sprawl out, which means Eddie's going for the Electric Chair. He wants Calvin to help him out, so Eddie gives Calvin a little push to his right so Calvin counters by pushing back into Eddie.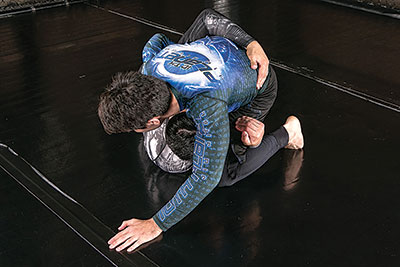 2. This push gives Eddie the momentum he needs to help take Calvin to his left by arching his body at his hips. Calvin falls to his right and bases with his right hand. If Calvin had a whizzer on Eddie's right arm, he would have had to let go, otherwise he would have been swept.