Classics in Each Class
Here's a look at the various styles that tend to do best in each weight division in the adult black belt categories.
Godzillas Of The Guard
In the rooster (126 lbs), super-feather (141 lbs), and feather-weight (154 lbs) divisions, the large majority of athletes pull guard for several reasons. The predominant factor is that they are great from working off of their backs. Thanks to their constant hip movement, flexibility, mobility, dexterity, and speed, their guards are so dynamic that at the highest level they are nearly impassable. They also transition very well from one type of guard to the next and are constantly throwing up attacks in the forms of submissions or sweeps. By pulling guard, three key things take place: 1) It allows them to set up better access to grips, hand and foot placement, etc. 2) If their opponent has just as dynamic a guard as they do, it eliminates the opponent's setups. 3) They eliminate the possibility of takedown points from their opponent. Guards that you probably see most often in these divisions are the De la Riva and reverse De la Riva guards that set up berimbolos, back take opportunities and leg drag passes. There are some exceptions, such as Bruno Malfacine (126) and Guilherme Mendes (141) who play more top, but both still have excellent guards.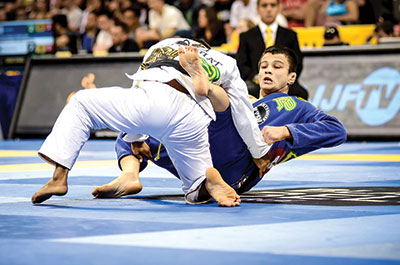 Best Of Both Worlds
The light (167 lbs) and middleweight (181 lbs) divisions are a mix of both the lower and upper weight classes. They probably have the most athletic and explosive competitors (save for Buchecha). Combining great guard work with a blend of speed and power is what you get here. These factors make these matches a must watch, as they usually don't slow down to a crawl, like some of those in the lighter weights do. Of the two you'll probably notice that the middleweight class is the bridge (so to speak) between all of the weight classes, as it combines every aspect of jiu-jitsu amazingly.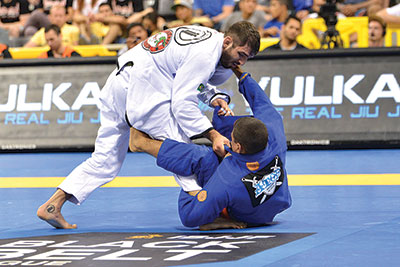 The Big Guns
From there we have the medium-heavy (194 lbs), heavy (207 lbs), and super-heavy (221 lbs) divisions. Here, you'll find more pressure and grinding type styles. Takedowns are very prevalent in these divisions, as are pressure guard passes. As always, there are exceptions, like that of Keenan Cornelius (194), who has an amazing guard, as well as Buchecha (221), who combines everything in the most well rounded mix that's ever graced the mats. This isn't to say that others in these divisions don't have good guards, but it's more noticeable with Keenan and Buchecha, as they move like their smaller peers.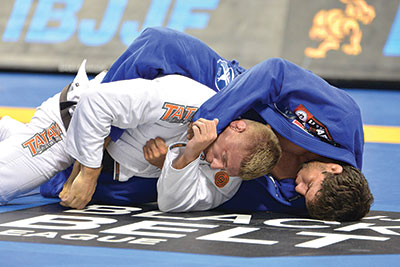 A Common Thread
One noticeable difference between each weight class is that as the weight increases, so does the use of the top game, as well as more takedowns and takedown attempts.
When Going Up Goes Right
Although he was still a good competitor, it wasn't until JT Torres lost his last match at featherweight (2008 IBJJF Worlds), as a brown belt that upon the suggestion of then coach, Jared Weiner, he decided to go up to lightweight. Upon doing so, JT found immediate success, which has carried through to today, as his strength and energy levels are up, allowing him to feel better and making him more confident.