Lasso Guard with Samir Chantre
In the Feb/Mar '15 issue of Jiu-Jitsu Magazine we traveled up to San Jose to meet up with Samir Chantre. Samir is an up and coming black belt with two no-gi world championships under his belt already Samir is primed to make a run at a gi world title soon. While visiting Samir showed us quite a few moves from the Lasso Guard. Check out this triangle he gets from the Lasso Guard setup.
Triangle from Lasso
This is Samir's favorite finish from the lasso, it's sneaky in how he performs it and allows for the option of going to the omoplata if unsuccessful.
1. Starting with the Lasso in place, Samir rotates his right foot from behind his opponent's left armpit to the front and on his shoulder. He doesn't move his leg at all, just his foot.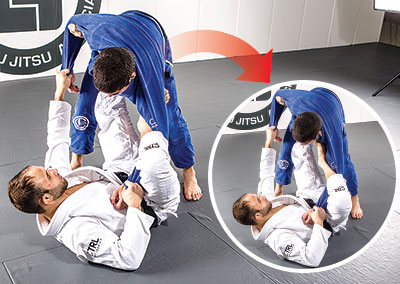 2. With the foot already over the arm, Samir quickly and deliberately kicks his right foot out and over the arm, while at the same time, pulling the arm down.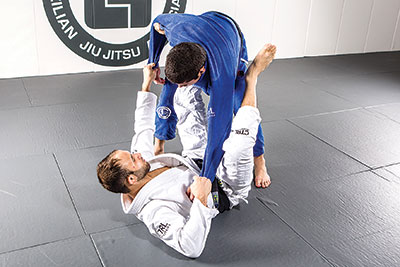 3. Samir brings his right foot to his opponent's hip and quickly steps on it to help elevate them while pulling the arm towards his head.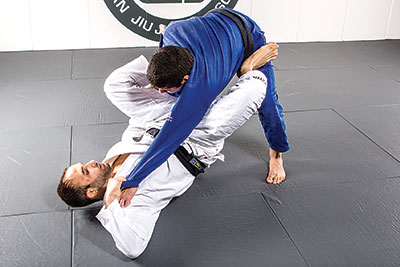 4. As Samir is pulling his opponent in he's bending his left leg to allow his opponent to get close to him.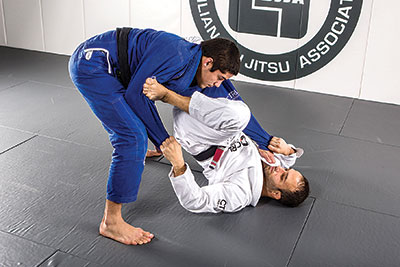 5. With his hip all the way up, Samir kicks out his left leg and quickly brings it across and over the back of his opponent's neck. Samir clamps down on the neck, as it's important to get heavy with the pressure from the leg. At the same time he drags his opponent's left arm across his body.