Henry Akins – "Invisible Jiu-Jitsu" The Concept Of Connection.
Disconnection
As important as connection – is disconnection. As the aggressor is looking to impose his will on his opponent by use of connection, the target of that force can reduce its influence by breaking the connection, or disconnecting. Henry illustrated this point to me by two ways. The first was actually a refresher on something I learned during weight distribution. Henry put me in full mount and had me place my hand on his chest, post an elbow, and sit up, pushing him off me. We did this a few times to find the moment when connection was made. Once I was comfortable making that connection, Henry simply changed his angle by pulling one shoulder back while driving the other one forward. This instantly killed the connection.
The other example of disconnection came while demonstrating a simple hook sweep. Using my arms and my leg, the emphasis of my connection to Henry was through the leg. I performed the sweep a few times and Henry defended the sweep as most people would, first fighting it, then basing out, but every time I was able to sweep thanks to force being transferred from me to him through the connection. Then Henry proceeded to disconnect. Rather than remaining rigid and fighting the connection through his leg, Henry relaxed the muscles in his leg and allowed it to sort of flop over, essentially not giving me anything to push off of. Time after time this disconnect was effective in thwarting my sweep attempt.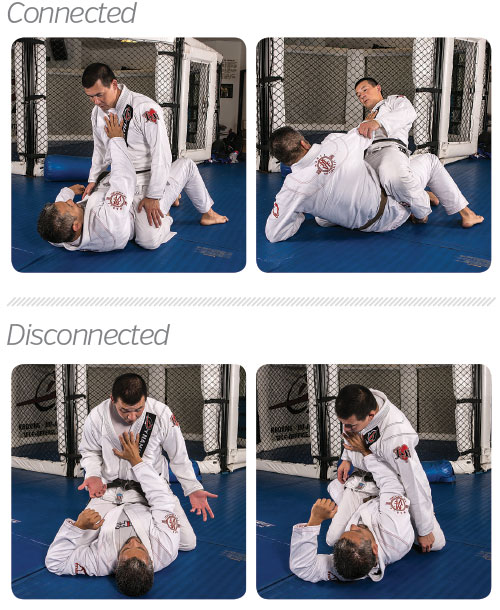 Application: Henry describes jiu-jitsu as a game of manipulation and how you can manipulate your opponent through connection, and stop it through disconnection. This concept of disconnection is applicable in almost every grappling situation. One person wants to move the other, and if you're on the receiving end, break the connection. Resisting your opponent will often times strengthen his connection. If his angle and leverage are solid you're only helping him get what he wants. The real test is being able to recognize when the connection is taking place and how to eliminate, or at the very least weaken that connection. Try training as you normally would, but pay special attention to connecting and disconnecting.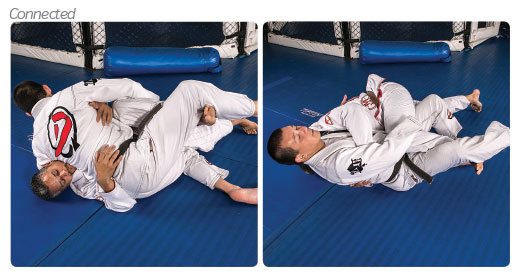 There are so many facets of the "invisible" jiu-jitsu that Henry teaches, thanks to his years with Rickson. This article, like the previous one on weight distribution, really just scratches the surface of that knowledge. Once you're aware of the concept of connection, you can begin to recognize its application every time you train. As you get a greater feel and ability to recognize connection, you'll be able to use it in almost everything you do. Don't expect this to happen overnight, because it won't, it might take years, but sticking with it and continuing to sharpen that skill will bring your jiu-jitsu to an entirely new level. For more on this concept check out the series of videos we produced with Henry available at www.jiujitsumag.com.
About Henry
Henry was at one time the head instructor at the Rickson Gracie Academy. Today, he's partnered with former UFC fighter Antoni Hardonk as owners of Dynamix Martial Arts in Santa Monica, California. If you don't live near the Southern California coast nor plan on being in SoCal any time soon, you can catch.