Henry Akins – "Invisible Jiu-Jitsu" The Concept Of Connection.
The Guillotine
Henry put me in a standard guillotine with a solid grasp of my neck, his arm wrapped around the back and his legs around me in a closed guard. Henry first applied downward force to his legs to stretch me out while peeling back on his grip of my neck to finish. There was a lot of movement in Henry's legs and body that I could "feel" and see when I watched the video. To employ connection, Henry made no adjustments to his hold on my neck, but instead, tightening his legs, squeezing his knees together, to the closed guard. Starting from the same beginning position, it was crazy how quickly I felt the choke set in.
Application: We've all seen it before, someone's going for the guillotine, they're all stretched out, but the tap never comes. Maybe at the end, after they're fully stretched, they squeeze their knees, but at that point it's too late. Henry tightened his grip on my body before putting his hips into the stretch. Whenever you have someone in your closed guard, you shouldn't just rely on the fact that your feet are crossed behind them. Instead, stiffen your legs, and squeeze your knees together to lessen the amount of movement needed to finish that guillotine, or kimura. This will also help your ability to maintain a closed guard if that's what you want to do. The lack of space between your legs and your opponent might mean his favorite opening technique is useless. Experiment with this. Don't go crazy trying to squeeze out a tap, you'll burn yourself out and waste a lot of energy. Find that balance where you can feel your opponent enough to anticipate his next move, stymie his plans and be better positioned to impose your will.

For more techniques from Henry Click HERE
The Mount
This example goes along with the previous one on the guillotine. There are different ways of playing on top in mount. For me, I was unsure of the mount; I felt that my balance wasn't acute enough to avoid the escape. Interviewing Xande Ribeiro for Issue 7 helped out my mount a lot, but for the most part I've looked as my weight as being the downward force to apply on my opponent. My movements from there were typically reactionary to avoid a reversal while figuring out what I wanted to do with the position. To illustrate the connection in the mount, Henry had me mount him and position my body how I would normally. He then had me close my eyes while he would begin to move his body as if he were going to attempt an escape. I had to indicate which direction I thought he was going as soon as I could tell. He did this a few times with my answer being correct, but typically not until he was already far into the escape. Then he had me make a simple adjustment. He had me move up a bit higher on the mount with my inner thighs near the rib cage and tighten my legs so that I was squeezing on his ribs. We repeated the process with my eyes closed. This time I was able to accurately feel which way he was turning before there was any actual movement of his body. I could literally feel his muscles tightening.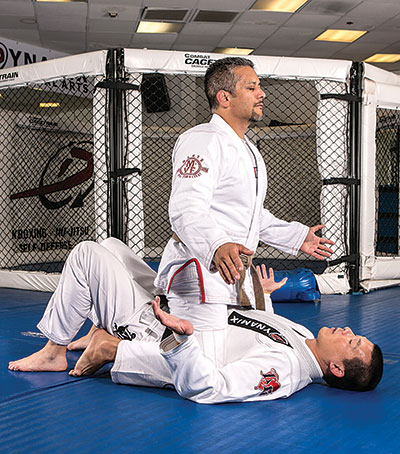 The fact that my eyes were closed may have heightened my sense of touch, but even with my eyes open it was crazy how the lack of any slack between my legs and Henry's body allowed me to literally feel his intention before it was visible.
Application: If you move into the mount and (sort of) relax a bit until your next move, you're going to have to break that habit when employing connection. It took a little getting used to for me, squeezing those legs together. However, since doing this photo shoot I've been practicing this concept regularly from the mount. It's allowed me to recognize the direction my opponent wants to turn quickly enough for me to set up for technical mount, and from there it's bow and arrow all day! It's also helped me secure the mount position by being able to sometimes instantaneously counter any attempt at an escape.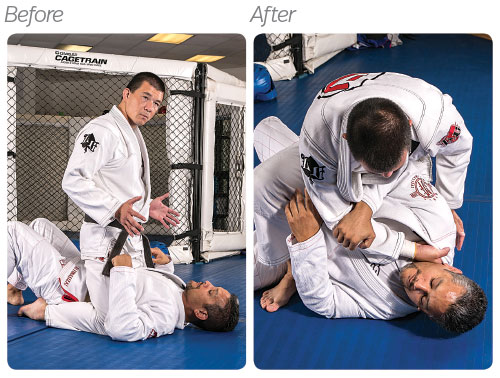 Rigidity
Our bodies are a collection of muscles, that with the right impulses, can become soft and limp, or strong and rigid. Henry illustrated this point with a simple escape from side control. I had Henry in my side control and he used his left arm under my chest. In the first example, Henry contacted my chest with his arm and bridged as if to throw me off towards his head. With his arm simply contacting me I was able to react and count Henry's bridging motion before it had any impact on me. The second time around, Henry made the connection and engaged his arm prior to bridging. Essentially, Henry took the slack out of his shoulder joint and chest making his torso and arm one solid piece. That time, when Henry bridged, I had no forewarning and it was much more difficult to defend his escape. Henry's arm, along with his torso, was engaging me and greatly increased his odds of a successful escape.
Application: This concept is similar to the rigid concept that Nic Gregoriedes shared with us back in Issue 24. The applications are limitless. It can be used in almost any situation, especially in those cases where you must explode with force to get where you want to go. Tightening up prior to the explosion will have a huge impact. Another example could be in a choking situation. Let's say with a cross collar choke, stiffening the wrists so there's no slack prior to engaging the arms can help set the choke in immediately.