For the past few years Garry Tonon has steadily been climbing up the ranks of stardom within the jiu-jitsu community. He had great success as a brown belt, but after losing against Kron Gracie at the 2013 ADCC, he's literally been hell on wheels against his competition with his aggressive submit his opponent at all costs approach. Whether a light bulb went on, a switch was flicked, a fire was lit inside or whatever other analogy you can think of, he truly lives up to the nickname 'The Lion Killer'. Since that 2013 match he has dominated and submitted his opposition at the Eddie Bravo Invitational, Kit Dale at Metamoris 4, AJ Agazarm at the 2014 No-Gi Pans (AJ is the 2014 IBJJF No-Gi Worlds Champion by the way.), Zak Maxwell at Metamoris 5, and most recently Marcin Held at Polaris Pro, all in a matter of minutes.
It's Showtime!
On 2/8/15, Garry is set to take on another challenge, that may have not been so obvious, but could in fact be a serious threat to this hot streak he's been on. While the younger crowd may not be familiar with his name, Javier Vazquez has been around the block more than once. The two will go head to head at the Gracie Nationals (part of The Fit Expo in Los Angeles, CA) in a no-gi submission only match, with absolutely no time limit whatsoever!
Who Is Javier Vazquez?
Javier Vazquez, also known as "Showtime", is a Brazilian jiu-jitsu black belt under Rodrigo Medeiros, a rank he achieved in 2003, making him most likely the first Cuban black belt in the Brazilian grappling style. Javier is also a wrestler and a retired mixed martial artist with a successful career having competed at some of the top promotions in the world such as KOTC, WEC and the UFC . Javier Vazquez is also married to Rose Gracie, daughter of 9th degree jiu-jitsu red belt, Rorion Gracie, with whom he runs the "Gracie Tournaments" organization. (Courtesy of www.bjjheroes.com)
Not Garry's First Rodeo
As a brown belt Garry competed in The Next World Champion BJJ Kumite show that included a field of the then top brown belts and every match was submission only, no time limit over the course of a week. He participated in 19 matches total (10 of those no-gi), finished 2nd overall in no-gi, only losing to Keenan Cornelius. That match was almost 28 minutes long, but his longest was nearly 36 minutes before defeating Victor Silverio. Will this be enough to deal with Javier? Ironically, only time will tell.
Tale Of The Tape
[row][double_paragraph]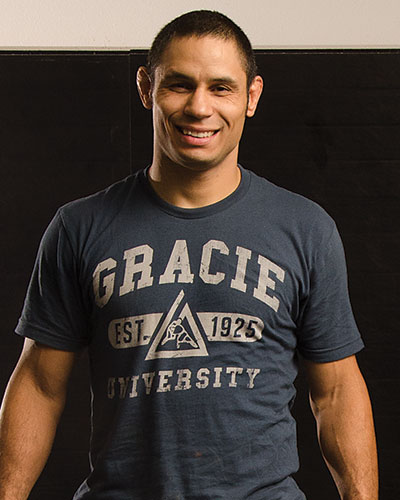 Javier Vazquez
Age: 38
Height: 5'7-½"
Weight: 161 lbs
Rank: 3rd degree black belt
Highlights:
• Named America's Best Grappler in 2005
• ADCC North American Trials Champion 2005
• IBJJF Pan Americans Most Technical Grappler Award 2003
• Sports Illustrated named him as having the "most inspirational performance of the decade" in MMA for his match against (another jiu-jitsu black belt) Alberto Crane because he tore his ACL seconds into the 1st round, but fought all 3 rounds, narrowly losing a split decision.
• King of the Cage lightweight champion
• Shooto, Elite XC, WEC, and UFC veteran
• 16-5 MMA record[/double_paragraph][double_paragraph]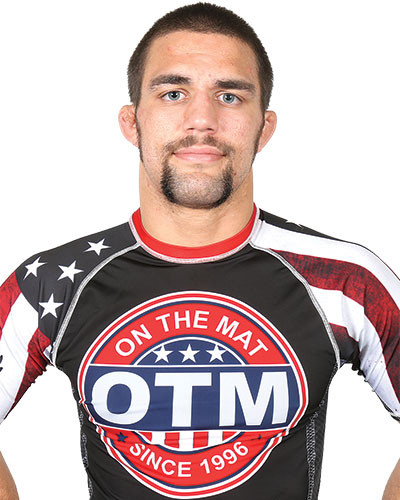 Garry Tonon
Age: 23
Height: 5'10"
Weight: 170 lbs
Rank: black belt
Highlights:
• Metamoris 4 and 5, Polaris Pro competitor, 3-0 record
• EBI1 Welterweight Champion 2014
• 2x IBJJF No-Gi Pan Ams Champ, brown belt
• 2x IBJJF No-Gi World Champ, brown belt
• ADCC North American Trials Champion 2013
• The Next World Champion BJJ Kumite – 2nd place, brown belt, no-gi[/double_paragraph] [/row]
Javier's Thoughts
We had the opportunity to speak with Javier and get his thoughts on this compelling match up. Here's how it went down.
JJM: Garry's at the top of his game right now against high level competition. He's constantly competing and you've been out of the competition scene for a while, other than at the Gracie Nationals. Do you think this may be an advantage for him at all?
Javier: If he thinks that he's competed more than me he's crazy. I've been competing longer than he's been alive, close to 25 years. For me to go out there, I'm always going to be relaxed, I'm always going to be calm, and he should be a lot more nervous to face me than I am to face him. I'm not really worried. Do I want to win? Of course. Do I think that I can get caught? Of course, he's really good. That's one of the reasons I'm going against him. I want to feel the level of guys today and how good they are. There's an element of danger and an element of hmmm…  not so much worry, but a sense of maybe concern. Just a sense of hey I got to respect this guy and I'm definitely not looking through him, past him, or anything like that. As far as his competing, I roll with some of the best guys in the world, so there's nothing that he's doing that I've never seen. I've seen it all and I've been around forever.
JJM: I was going to ask you about the age difference, but based on that answer it doesn't seem like you're worried about that at all. What do you think he may have an advantage in if anything?
Javier: He obviously likes leg locks and I'm pretty good at defending leg locks. Like I said, I've been doing this a long time, but he definitely has a little pattern and system that he follows that I've had to catch up on. I'm good at leg locks, but it's just like with anything, when a guy specializes in something or has had a considerable amount of time on their system they'll be decent at it. Obviously if you don't study the system or have a clue as to what he's doing, then yes, he has an advantage, but I'm very quickly plugging that hole up. I already had pretty good leg locks and defense to begin with, but he has a little system. I have a lot of resources in this business, so I went directly to the best leg lock guy in the game, Dean Lister, and said, "Dean, please help me", and he said, "Come on over." He's briefed me and has been coaching me over the past several weeks on what I need to be focusing on and I'm doing that; plugging that only real hole that I felt I had against him.
JJM: Now on the flipside of the previous question, what do you feel are your advantages over him?
Javier: I feel that I have a tremendous amount of experience, all the resources, all the minds that I need at this point in time to beat a guy like him. I have the training partners, the work ethic, the understanding of grappling, and the understanding of chance. I'm very calm and very good under pressure. I mean dude you name it, I have a lot of advantages. If you could sum it up in one thing it would have to be my experience. I'm way more experienced than him, but I know he's good. Lastly, I'm very tough to tap.
JJM: So you chose Garry specifically because you've seen what he's been doing recently right?
Javier: No, not at all. (laughs)
JJM: No? (scratching head)
Javier: Yeah, I didn't even know who Garry Tonon was. I'm good friends with Eddie Bravo, we've known each other for 15 years, maybe even longer and we've had a lot of conversations about grappling, the state of the game, and things of that nature. I said, "Hey, I'm doing Gracie Nationals and Gracie Worlds, I'm competing, and I want to make a statement in my grappling to show people that I'm still probably one of the elite guys. Who would I have to beat for that to kind of resinate?" His response was Garry Tonon. I had seen his match with Kron (Gracie from ADCC 2013), but I didn't put two and two together and didn't know that was him. I also watched him compete at Metamoris, but it wasn't until Rose (Gracie, Javier's wife and daughter of Rorion Gracie) looked him up and got a hold of him. Then we went from there and it was only after all of this, I started to do my research, I saw how popular he was and everything. So, I wasn't super familiar with him, but that's who we chose.
JJM: Watching Garry, I see him as having an unorthodox (in a good way that throws opponents off), high intensity, fast paced, risk taking, try to end it quickly type of style. Now I've seen you compete and in my opinion you're style is patient, calculated, and more cerebral than others. I say this because I've seen you be calm, then explode out of nowhere and catch something. Is that a pretty fair assessment of the both of you?
Javier: Right, but something that really interests me is the transformation that I've made in my grappling since I married Rose and began working with (Rose's brothers) Ryron and Rener (Gracie). They have completely changed my philosophy, and they've made some technical adjustments, yes, but most of them have been philosophical, as far as Grandmaster Helio's philosophy and strategy. For me that has been such a huge deal because I learned from the Carlson Gracie (son of Carlos) side of the family and then I learned from the Helio Gracie side of the family. So I've learned both philosophies and believe I have an advantage (over Garry). I was really attack oriented early in my career, but now I'm constantly trying to become a better master of defense. That's why the submission only is so fun for me because it really helps me showcase my defensive skills and show people that just because you are in a bad position doesn't mean you're helpless or going to lose.
Coming into this match I know what he's going to try to do; he's going to be faster, be a little bit heavier, a little bit stronger, younger, and hungrier. Everything is against me, but just like the Grandmaster said, you don't have to be fast or strong to beat someone else. Guys who have rolled with and train with me know I don't really fight you with anything. I understand defense, I understand what I'm trying to do and I'm waiting for you to screw up. That's pretty much what I'm going to do with Garry. Obviously if he gives me something I will gladly take it, but my strategy is to use real jiu-jitsu to beat this very dynamic opponent that I'm facing. I have to use the principles I've learned and the science of jiu-jitsu against his youth and all other physical traits he brings to the table.
JJM: I understand that this match is no time limit, correct?
Javier: Yes.
JJM: Okay, so when will this match be taking place during Gracie Nationals? Before, during, or at the conclusion to the other matches?
Javier: Well, we're probably going to start the match between 10:00am-12:00pm, more than likely closer to 11:00am-12:00pm. I had already planned for this and told Rose that this might go a while.
JJM: The reason I ask is because Copa Podio attempted a submission only, no time limit match between João Miyao and Gianni Grippo that lasted an hour, but ultimately was called a draw due to venue and event constraints. Will this match absolutely be 100% without time limit?
Javier: Yeah, that's not going to happen. Unless we go longer than 6 hours.
(We both laugh)
JJM: Are the 'Showtime' pink shorts going to be in full force?
Javier: (Laughs) Probably not. I'm trying to distinguish myself from the fighter to the instructor. That was more for show and I don't think I'm going to go with pink shorts, but you never know. (Laughs again)
JJM: Now if you submit Garry your stock goes up tremendously. Where do you go after that? Are you going to call out other guys or look at a Metamoris shot or put it out there that you'll take on any and everybody at the Gracie Nationals or Gracie Worlds?
Javier: I really like the latter more than anything else for a couple reasons. The first being that I don't need anybody to get me matches because I can get a hold of pretty much anybody and talk to them directly for a match. I've been calling guys out for the past three years and nobody has accepted a match with me. These are guys with the biggest names in my weight class and nobody has called me back. I'm pretty loud and obnoxious, so I'll say it right to them, to their face, on the internet, and everywhere else, but I don't really hear anybody screaming back that they want to go against me. Now if I beat Garry and all the sudden everybody wants to go against me, to me that's a bunch of s***. I've been saying for years that if you guys think you can beat me, well then come and beat me. In my opinion Metamoris is a great show and I love the way Ralek (Gracie) does a lot of the things going on in it. I think he and I are on good terms, but I love my wife and if I'm going to do something like this and make an event out of it, I'd much rather do it with her than anybody else. The fact that it's no time limit and I can do things on my terms I might as well do it at Gracie Nationals and Gracie Worlds. I don't see why I would promote someone else's show when we can promote our own show. That's no disrespect to Ralek with Metamoris, Polaris Pro, or anyone else, but that's where my mentality is right now. Maybe they can change my mind, but 20 minutes to me is nothing. I'm getting warmed up and figuring out what the other guy is doing in that time. Time is just another thing to worry about, so when you take it away, that's just one less thing.
I'm actually quite surprised of how excited people are for this match! The feedback that I've gotten, that Rose has gotten, and maybe what Garry has gotten as well, has been really great. I'm really happy that he took the match because I'm 38 now, I don't know how much longer I'm going to compete and I need to check things off my bucket list before I'm not able to do them anymore. At one time I was considered the best grappler in my weight class years ago and I haven't gotten worse. So the guys I was beating then, I'm very confident I could beat now and a lot of these guys are very well respected guys that have much bigger names than me, for whatever reason you know, and again, I haven't gotten worse, but actually better. I'm just excited to showcase my development and show people that I stand behind the rules we've created so much I'm willing to put my ass on the line. Not too many other promoters that run events are willing to do that and I think that's unique.
JJM: Thank you for the interview. Is there anyone you'd like to thank or give a shout out to?
Javier: You're welcome and thank you for the opportunity. I'd like to thank my wife Rose, everyone involved with Gracie Tournaments, Dean Lister, Ryron and Rener Gracie for always supporting me, everyone at the Gracie Academy in Torrance, and everyone at my Gracie Academy in Rancho Cucamonga. You can follow me on Instagram and Twitter @javiershowtime.