Fighting For A Better Future.
Terere's Social Project Aims To Change Lives With the Power of Jiu-Jitsu
It's a little after six on a Monday evening in Rio. Kids start appearing at the gym door in small groups of twos and threes. As they enter they kick off their flip-flops and quickly take to the mat. Before the session has even started most are energetically rolling around on the floor. A few sit around someone's phone watching one of their matches from the weekend. Conversation, laughing and giggling fill the air.
The children of Fernando Terere's social project come here every weekday evening to learn jiu-jitsu from one of the sport's all-time best competitors. Ranging from tiny five year olds to lanky teenagers, their gis are mismatched and almost always the wrong size. Some of them were sent from overseas by friends and students of Terere; almost all of them are hand-me-downs. Gis are expensive in Brazil and the economic situation of the young students makes buying one impossible for their near-impoverished families.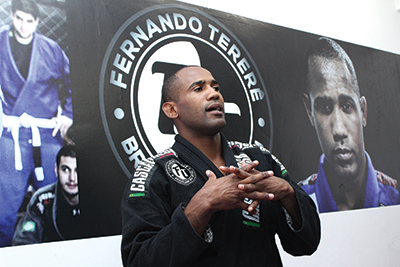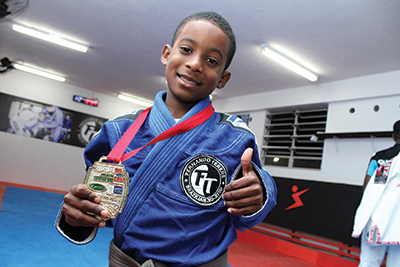 Terere's gym sits at the entrance to the favela known as Cantagalo, which is an impossible-looking collection of shoddy houses that clings to a hill overlooking the wealthy Rio de Janeiro neighborhood of Ipanema.
"The gym is a little hidden," Terere says with a shrug, almost apologetically. Not that the location matters – his reputation in the local community is big enough that he could be teaching on the moon and everyone on the hill would know about it.
Fernando Terere was a giant on the mat, and he's something of a local celebrity. Born and bred in Cantagalo, he was the first jiu-jitsu practitioner from the favela to make it big. He won the world championships at every belt from blue to black in a four-year period. Even though his last Mundial win was in 2003, his reputation draws many youngsters to his gym. Often they are the children of friends. There are even a few relatives from his large extended family; all are neighbors.
Cantagalo is a place where Terere knows everyone and everyone knows Terere. It's a poor, but tight-knit community. For years the hillside favela was controlled by vicious drug traffickers; life was cheap and the beleaguered residents lived and died in the crossfire of police raids and shootouts between rival gangs.
Things have changed for the better in the last couple of years. A city-wide police affirmative installed stations within the favelas as part of a large 'pacification' program. The gangs (and the drugs) still exist, but they no longer openly sit on doorsteps brandishing automatic rifles. Still, it's all too easy for a young person to go down the wrong path in the favela – something Terere himself knows all too well.
At the height of his athletic career Terere began to suffer from an undiagnosed mental health condition that saw him end up out on the streets and addicted to crack. "I had problems in my life," he says, "I stopped training, I was involved in drugs for five or six years. It could have been longer. I fell as a man and was lifted up by God. It was an education for life."
It is Terere's hope that the young members of the community look to his story as a warning – it could just as easily be you. "The defeats that we have on the mat in jiu-jitsu, I also had in my personal life. It's good that a student of jiu-jitsu knows that this could happen in their lives, too," he says.
[row][double_paragraph]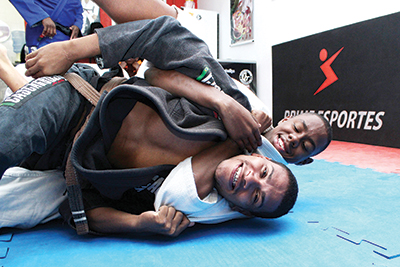 [/double_paragraph][double_paragraph]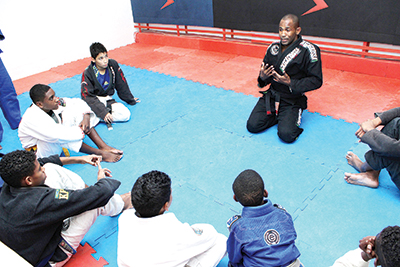 [/double_paragraph] [/row]
One of the most important elements of Terere's rehabilitation was a return to practicing jiu-jitsu. The time on the mat acted as both therapy and a way to avoid destructive influences. It is this transformative power that Terere hopes to harness in his project. Jiu-jitsu keeps the kids out of trouble and offers them an outlet for problems in their lives.
"The project teaches kids martial arts and promotes respect for their master and their training partners," says Julio Nogueira, one of Terere's instructors at the gym. "The sport not only helps in the physical growth of the child, it also works mental aspects, like discipline. It's an immense satisfaction to see the evolution of the students in the social project. They start off shy, but as they continue training they begin to feel more confident."
[row][double_paragraph]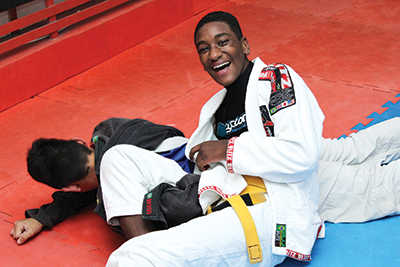 [/double_paragraph][double_paragraph]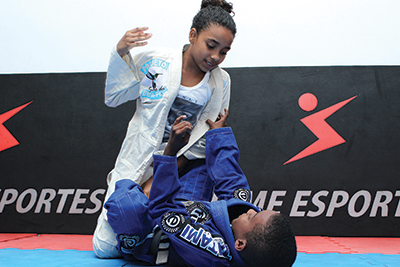 [/double_paragraph] [/row]
Terere has always been known as good a teacher as he was a competitor. He was formative in the development of Andre Galvao, Rubens 'Cobrinha' Charles, Michael Langhi, Lucas Lepri, as well as other extremely successful competitors of the modern era. His philosophy for teaching the kids is simple: "I think the basics are most important – the base, posture – and I think the children have to have a happy game, you know? Independent of whether they submit or are submitted, they have to be happy in their jiu-jitsu. I try to pass to them to enjoy what they're doing, not to be obliged to do it. It has to be for love – and if they love it, they'll be good at it. If they're obliged to do it they'll get sick of it."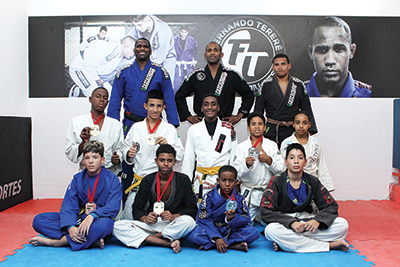 The joy for jiu-jitsu is evident in the kids as they roll. Their enthusiasm is matched only by their focus. Terere encourages them to be diligent as they drill and to ensure the technique is done to perfection. They execute moves that would have many adults struggling and they roll with intensity, but there are no sad faces or sulking if someone gets tapped.
"I always look to take out the competi-tiveness, as that creates an insecurity in them. I try to loosen up their games," he says. "It's cool if they compete, they use what they learned with me in the competition. They're already champions at their belts – yellow, orange. When they get first place on the podium, others want to get to the same level."
[row][third_paragraph]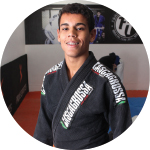 Gabriel Carvalho
A 15-year-old orange belt, Gabriel began training two years ago at another academy in Copabacana with a cousin of Terere. Switching gyms several times, it wasn't until he came to Terere's academy that he finally felt he'd found a home. "Terere's wasn't like the other jiu-jitsu academies that show preference to the top students or the best competitors," he says. "I like it here because even the students that aren't as good or the ones that don't compete still get attention."
Gabriel also practices muay Thai and boxing, but he prefers to dedicate most of his time to rolling on the mats. An avid competitor who often trains two or even three times a day to prepare for competitions, his results have been astounding. After only two years of training he has won over 10 medals to become a national and state champion, but perhaps most importantly, Gabriel credits jiu-jitsu as helping him lose weight and live a healthier lifestyle.[/third_paragraph][third_paragraph]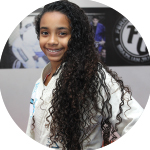 Maria Eduarda Silva
One day around a year ago and left with nothing to do but watch TV, 12-year-old Maria Eduarda decided to tag along with her brothers to the gym. When asked why she decided to leave dance and start training with Terere she not only talked about the opportunity to have fun and play with her friends, but she also talked about how jiu-jitsu helped her learn new things. "It's not a rough sport and it also teaches a lot," she says, "You can lose, but even so, that's part of the sport and it helps a person learn more. You tap and then you get up and roll again – you get better every time."
There aren't too many young girls currently training at Terere's, but that doesn't stop her from getting on the mat with the boys. "It doesn't make a difference. Jiu-jitsu is for everyone," she says. With a year of jiu-jitsu behind her Maria has already decided she would like to continue. Her plans? "I want to continue with jiu-jitsu and be a nurse for the Navy."[/third_paragraph][third_paragraph]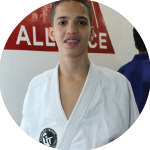 Francisco Junior da Cruz
A 15-year-old white belt who lives in the community, Francisco started training with Terere three months ago after some of his friends told him how much they liked the academy. He decided to switch from another gym as the training was more competition-based and also because they have more fun! Francisco trains five days a week in both the kids and the adult classes. When he isn't doing jiu-jitsu, he likes to spend time with friends from the academy. He also practices capoeira at another social project in the Cantagalo community.
Francisco's story is a perfect example of how the project enables kids to achieve success. Donations allowed him to sign up for his second jiu-jitsu tournament recently, and he was able to submit his opponent in 30 seconds! When asked if he thinks he will continue with jiu-jitsu he says, "Yes. It's had a big impact on my life. Since I started I began to like it more and more. I mean, three months and I already have a gold and silver medal."[/third_paragraph][/row]
Like many social projects in Brazil, Terere's jiu-jitsu club for children receives no government support. The club exists thanks to occasional sponsorships from local businesses and donations from supporters, both in Brazil and abroad.
All money raised goes directly into assisting the children, from tournament sign-up fees to travel costs. Among the project's initiatives is a program where every child who attends training receives a healthy snack pack. For those whose families struggle to put enough food on the plate, this is a particularly welcome benefit of the project.
Particularly of need are gis. It is the project's goal to provide free kimonos for the students and the project is currently raising money to purchase a number for the gym. Donations of child-sized kimonos are gladly received and mailing details can be found at www.TerereKidsProject.com.